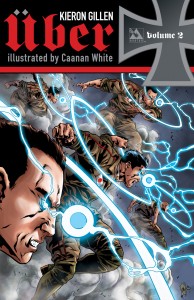 Kieron Gillen's Uber has been a terrifying glimpse into a dark world where the horror of enhanced human warfare has spun the second World War out of control. ?There is no peace or end to hostilities. ?Only a grueling and miserable march toward what feels like the utter annihilation of the human race.
The second ground breaking chapter of the series is collected in the Uber Vol 2 TPB, solicited in the July issue of Previews. ?This second volume packs 160 pages of powerful story and extras into a collection that has earned a place next to the very best super solider stories of the past 75 years.
If you are new to the Uber world, check with your local comics retailer to obtain a copy of the Uber Vol 1 TP and to place your preorder for Uber Vol 2 TP today.