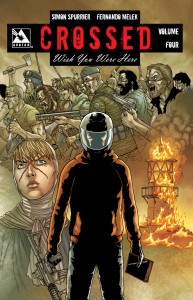 Fans of Crossed have followed along with former comic book writer, Shaky and his acquaintances on the island of Cava for the past two plus years at www.crossedcomic.com as the scribe detailed his sordid life among the survivors. ?His story came full circle recently as the final chapter of the free webcomic revealed the ultimate fate of the star crossed lovers. ?In what was the first long form Crossed story to span a significant period of time, fans were able to truly get to know the characters, their flaws, and their hidden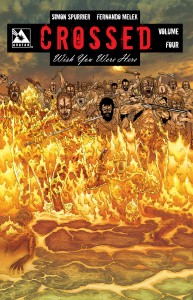 horrors. ?And the tension leading up to the final installment revealed a level of attachment to them despite their many failings as a community.
Simon Spurrier has crafted a story that transcends the miserable landscape of the Crossed and details the horrors that people hide inside as they strive to survive the impossible. ?The final chapter of Crossed: Wish You Were Here is collected in volume four of the trade paperback series.
Stop at your local comic shop to read the last moments and see what peace can be salvaged in a world of maniacs.