Garth Ennis has created some of the longest lasting and impacting stories of soldiers and war that comics have ever seen. ?From?the deserts of Afghanistan in the pages of Stitched to the old west in Streets of Glory, his tales of violent confrontation rank as powerful stories that delve into the bloody nature of humanity.
To celebrate Ennis' seminal works in this field, three of his pivotal tales have been collected into a special Combat Collection bundle at ComiXology. ?The bundle includes 303, Stitched, and Streets of Glory – 19 comics making up three full stories for $18.99 through 8/31.
https://www.comixology.com/Garth-Ennis/page/2917
303 (#1-6)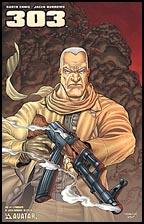 Deep in the mountains of Afghanistan, a dozen Russian special forces soldiers race their British opponents for a secret neither of them can imagine. The Russian leader, a war-weary colonel who knows no other life but conflict, carries old ghosts that refuse to let him be. But the battle that awaits him deep in this ancient land will change his life forever, and send him on a violent journey no sane man would contemplate. The ultimate soldier meets his destiny, in a tale from Garth Ennis, the creator of Preacher
Stitched (#1-7)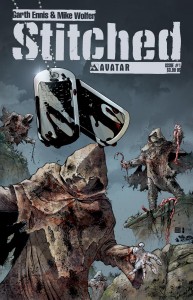 From the mind of Garth Ennis comes the modern chapter of an ancient horror. Ripped straight from the debut of his first-ever writing/directing effort comes the ongoing comic book continuation of the acclaimed short film, Stitched! The three survivors of an American military helicopter crash discover that there is something even more deadly than the Taliban controlled countryside they find themselves trapped in. Garth Ennis weaves a tale that combines today's headlines with his trademark vision of the supernatural into a modern horror masterpiece. This new series is certain to appeal to Ennis' legions of fans as it pushes the envelope of horror beyond the boundaries of sanity and into fresh nightmares.
Streets of Glory (#1-6)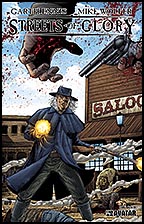 Garth Ennis re-defines the Western with this sweeping six issue epic. Joe Dunn is one of the last bastions of the old guard drifters, those men that could be trusted to defend the common man with integrity, honor, and if need be, hot steel of death. Dunn has been away from Montana for more than 15 years, lost to all who knew him. Now he comes riding into a small town, Dunn still representing the best of the past, an era quickly fading. But it is 1899, the way things are done is changing, the future is coming. But before he is done making things right, the bodies will pile up while the streets run red with glorious blood. Ennis teams with Mike Wolfer for this epic full color series that promises to thrill every fan of Garth's powerful story-telling and brutal violence.