New Avatar Press items on sale in local comic shops on Wednesday 9/24/14:
Rover Red Charlie TPB
PRODUCT DESCRIPTION: ? ? ? GARTH ENNIS ? the creator of Preacher and Crossed ?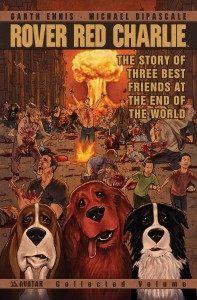 delivers a story like no other, as an unlikely band of canines set out to survive in a world gone horribly mad. When a worldwide plague wipes out humanity, what happens to man?s best friend? Charlie was a helper dog and he was good at it. Now he and his friends Rover and Red must escape the bloody city and find their way in this strange master-less new world. Ennis applies his incredible talent for shockingly original tales and spot-on dialogue in this fully painted story will change the way you look at pets and takes you on a spiritual journey of rediscovery through the eyes of these canine best friends. Rover Red Charlie Vol 1 TP collects issues #1-6 of the comic book series.
Visit the Comic Shop Locator Service to find a comic book store near you -?http://www.comicshoplocator.com/Home/1/1/57/575