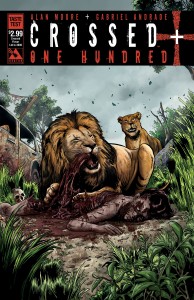 Avatar Press premiered the much anticipated first look at Alan Moore's Crossed + 100 at last week's New York Comic Con. ?Fans soaked up the Taste Test preview that included Moore's essay on the upcoming series and gave glimpses of the design work and first pages of the initial issue. ?Moore addresses his fascination with the Crossed and why he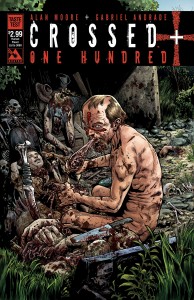 considers the property "one of the most profoundly moral pieces" the scribe has ever read.
The preview edition provides an enlightening essay by Moore, the first pages of the Crossed +100 #1 script, and pencil and ink sample pages from series artist Gabriel Andrade (Ferals). ? All three versions of the NYCC Exclusive Crossed +100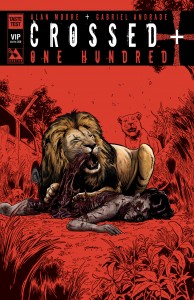 Taste Test can be purchased at www.comcav.net?or at your local comic shop in late November.
Comic shops are compiling ?their orders for Crossed + 100 #1 right now and will be preparing their stores for the horror to come in December. ?Ask your local comics retailer to reserve a copy of this groundbreaking addition to the grueling horror universe of Garth Ennis' Crossed.