Garth Ennis fans have a lot to celebrate this week as two of his most critically acclaimed recent projects, Caliban and Rover Red Charlie, are on sale at ComiXology!  This limited time bundle opportunity runs through December 21st and offers digital issues #1-7 of Caliban and #1-6  of Rover Red Charlie for 63% off the regular price at $14.99 for the lot.
Caliban:  Master storyteller GARTH ENNIS and Fashion Beast artist FACUNDO PERCIO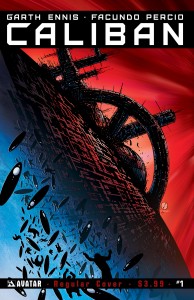 team up to deliver a haunting new epic of science fiction horror. The crew of the Caliban travels hyperspace on nothing more than a routine trip for the giant vessel. Just human beings that have been inside a bit too long, confident of no other life in the Galaxy, and all the vastness of space to remind them how far they are from home. But when an impossible accident suddenly causes the Caliban to slam into an abandoned alien ship, a nightmare in space begins to unfold. Ennis delivers his unique brand of flawed characters, spot-on dialog, and trademark flare for the unexpected in a new series in the vein of Alien.
Rover Red Charlie:  When a worldwide epidemic suddenly rids the Earth of all humans,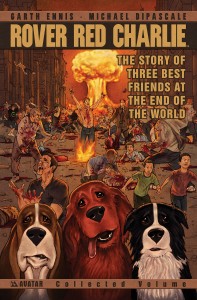 what happens to man's best friend? GARTH ENNIS – the master wordsmith of Preacher and Crossed – delivers a story like no other, as a band of canines set out to survive on their own for the first time. This is the story of three best friends at the end of the World. Charlie was a helper dog and he was good at getting his feeders safely around. Now he and his pals Rover and Red must escape the failing New York City and find their way in this new order. Ennis applies his incredible talent for creating rich and complex characters to a whole new species, with this shockingly original tale that is fully painted by Michael Dipascale.
Give the gift of great comics this holiday season:  https://www.comixology.com/Caliban-and-Rover-Red-Charlie/bundle/844