Avatar celebrates the start of the holiday season with an incredible bundle of Warren Ellis' classic comics on ComiXology.  The "Fantastic Futures" bundle includes digital copies of Ellis' best Avatar science fiction series – Ignition City, Anna Mercury, and Doktor Sleepless!
Through Sunday 12/21 all 27 issues of these series are available for $24.99:  https://www.comixology.com/Warren-Ellis-Fantastic-Futures-Bundle/bundle/845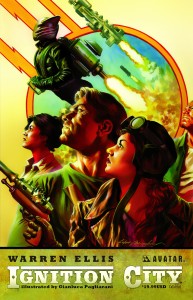 Ignition City:  Where did the space heroes go to die? A new series by Warren Ellis, the writer who reinvented science fiction in comics, in the alternate-world style of the award-winning MINISTRY OF SPACE and AETHERIC MECHANICS — a retro-punk "future of the past" where spaceships still belched smoke and arguments were still settled with laser pistols. 1956. Personal space flight is becoming illegal all over the world. Grounded space pilot Mary Raven has to journey to Earth's last spaceport, the island of Ignition City, to recover her dead father's effects — and discovers, there in the lawless interzone of the ramshackle settlement raised inside the ring of launch pads, that her father died on the wrong end of a ray-gun. She's not going to leave until she finds out who killed Rock Raven, but there's a lot of people who'd rather feed her to the recycling chipper first..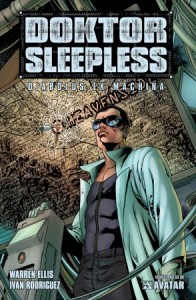 Doktor Sleepless:  It's the near future. No-one has their flying car. Everyone feels cheated. What America needs now is a Mad Scientist. A city with a secret is shocked out of its apathy by the return of a young technological genius who has reinvented himself as Doktor Sleepless. But perhaps he never left and perhaps his planned new future doesn't include the city. For fans of Ellis' fantastic sci-fi tales and have missed the absence of Transmetropolitan, this series is what the Doktor ordered!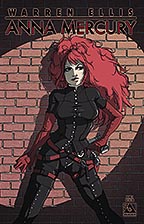 Anna Mercury:  Warren Ellis introduces you to the sultry Anna Mercury in this daring sci-fi series! Dancing amid the spires of a city called New Ataraxia, there is a woman who can cloud men's minds, leap across buildings as if weightless, unerringly fire twin automatic pistols in the most insane conditions, and disappear in a crowded room. She fights against the political repression of an insane technocratic society, and she comes from a place that no-one in New Ataraxia has ever heard of. And she's got one hour to save the city from itself. A high-octane blend of The Shadow, Tomb Raider, retropunk science fiction and 21st century Weird Pulp Action, ANNA MERCURY is a headlong adventure serial about a beautiful and mysterious spy-adventurer who is not what she seems….