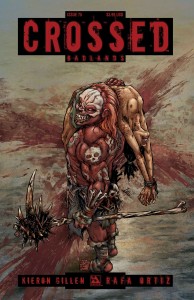 Wednesday April 15th, Garth Ennis' legions of Crossed fans will flock to local comic book shops and book stores to celebrate the fourth annual C-Day.  Avatar Press, publisher of extreme horror comics, designates one Wednesday a year to all things Crossed.  Now comic shops worldwide encourage rabid fans to don their Crossed cosplay costumes and come in for parties, photos, and an opportunity to become a new reader ambassador for the comic series that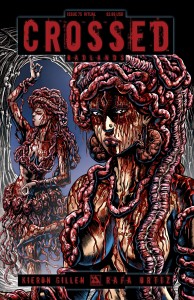 redefined grueling horror.  Fans of extreme horror have a lot to celebrate as a golden age of Crossed settles in during the early months of 2015.  Alan Moore has created an all new vision of the future in Crossed +100 and the bi-weekly Crossed: Badlands core series continues to deliver the most disturbing uncensored horror being published.
For the first time ever, the C-Day event is centered on a writer other than Crossed's prolific creator, Garth Ennis.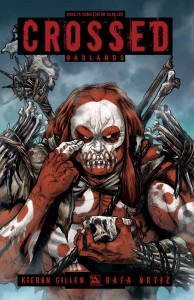 Uber scribe Kieron Gillen brings a story of the Crossed in the ancient past to the bi-weekly series Crossed: Badlands beginning with the milestone issue #75 which arrives on Wednesday, April 15th – C-Day.  The new story arc "Homo Tortor" takes readers to a point in history where the human race nearly slipped into extinction and uncovers what role the vile plague played in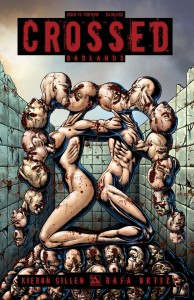 that event.  Gillen is no stranger to apocalyptic horror as his work on Uber has won numerous accolades, revolutionized the alternate history genre, and redefined the concept of super soldiers.
Avatar Press and www.bleedingcool.com will be promoting stores and fans participating in the cosplay events by running their pictures online and in social media for everyone to see.  All we ask is that everyone keep the event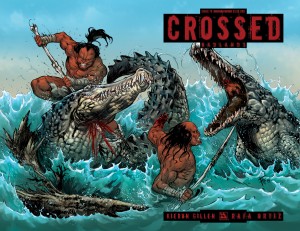 in perspective, have fun, and be safe.  Crossed is extreme horror fiction that allows you to step into the most frightening scenario ever published.  But in the real world we want to encourage everyone to be responsible and courteous to non-readers and families also enjoying their visit to the comic book shop.