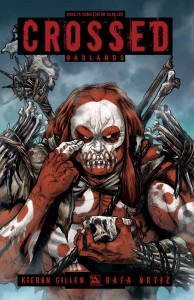 The February Previews arrives in comic shops today featuring all the exciting new comics due out this April.  Avatar Press celebrates the 2015 C-Day on April 15th with a horrifying new chapter in the Crossed: Badlands saga.  Kieron Gillen, the creative mind behind Uber, the terrifying alternative history vision of World War II, picks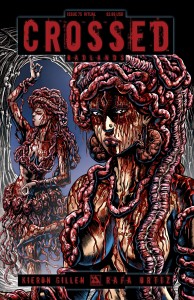 up the reins to tell a prehistoric chapter in the history of the human race.  This new arc, called "Homo Tortor," takes readers to a place and time where extinction nearly overcame the species and reveals the monstrous dangers and creatures behind this deadly period.
This new Crossed: Badlands arc kicks off the excitement behind the C-Day festivities in which fans will descend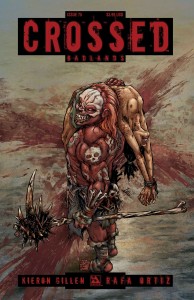 upon comic shops in Crossed cosplay costumes to introduce new readers to the most violent horror tale in comics and to celebrate with fellow enthusiasts. April 15th will be the fourth worldwide C-Day and is an opportunity for fans everywhere to celebrate Garth Ennis' unique survival horror universe.  Ask your local comic shop if they will be having a Crossed party on C-Day and how you can participate.  And be sure to send in your pictures from the event of store decorations and cosplayers so we can share them with all the Crossed fans!