These are the new Avatar Press comics arriving in comic shops on Wednesday 4/15/15:
**Celebrate C-Day!***
Crossed: Badlands #75
PRODUCT DESCRIPTION:      Crossed C-Day 2015 is here!  And to celebrate the event,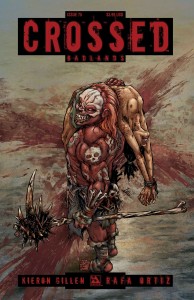 superstar writer Kieron Gillen (Uber, Wicked & Devine) is launching a new story arc that will take the horrors of the Crossed back to the ancient past!  75,000 years ago was the closest humanity has ever came to being purged from the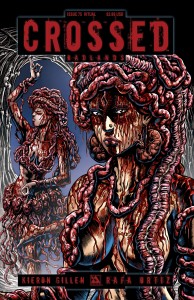 Earth.  There were as few as 2000 humans remaining.  This is historical fact.  Why it came to this is generally blamed on super-volcano Toba causing a minor ice-age. But that's not the full story.  That is not the history of the Homo Tortor, i.e. Man The Toturer.  This empire before the beginning of time, that sends raiding parties gathering other Homo species and enormous mega-fauna, invented cruelty, refined domination, perfected killing.  And they think their power will last forever. Join the hunt for historical answers with this issue that kicks off C-Day events worldwide as fans celebrate the grueling world of Crossed at comic shops everywhere.  There is no help, there is no hope.  There is only the Crossed.  Available with Regular, Homo Tortor, Megafauna Mayhem, & Terror Birds Covers by Fernando Heinz, Torture & Ritual Covers by Raulo Caceres, Wraparound Cover by Rafa Ortiz, Art Deco Cover by Michael DiPascale, Femme Fatale cover by Juan Jose Ryp, and a special Red Crossed Incentive Cover also by Heinz.
Crossed +100 #4
PRODUCT DESCRIPTION:      As the layers of the mystery begin to unravel, Future Taylor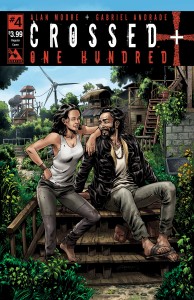 goes to compare notes with an archivist from another settlement.  All the evidence points to an impossible conclusion.  One that seems so radical, Future has to search out the final answers on her own.  Alan Moore, the man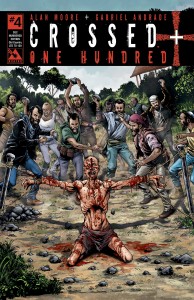 who revolutionized the comics medium, returns to monthly comics and puts his unique stamp upon the Crossed universe, as he and artist Gabriel Andrade paint a vivid picture of the future 100 years after the outbreak! This multi-layered story delivers a new brand of horror to Crossed fans at the hands of the scribe that redefined the comics medium.
Dark Gods #5
PRODUCT DESCRIPTION:       The human race thrived in blissful ignorance of the horrors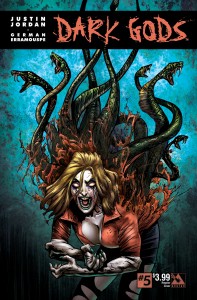 outside our safely constructed reality.  But when Justin Jordan pulled down the dam holding back the darkness, a new hell on earth was unleashed.Now the forces ushering in the new age of monsters are on the rise and the ancient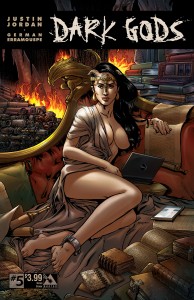 order of protectors are waging a losing war. German Erramouspe illustrates this new series with special painted sequences by Michael DiPascale. Available with Regular and Wraparound covers from series artist German Erramouspe, sultry Siren cover from Christian Zanier, a Fully-Painted Deity cover by Michael DiPascale, and a special Nightmare Retailer Order Incentive cover also by Zanier.
God is Dead #32
PRODUCT DESCRIPTION:       The Great Deceiver has been busy plotting and planning.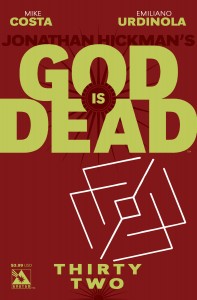 After the death of his greatest foe, he was unprepared for what would happen next.  But now, history's most devious fallen angel has a new plan and it may be his most vile yet.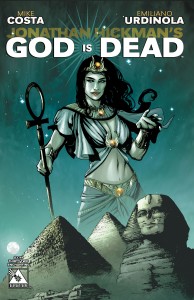 Mike Costa takes the deity ravaged world to the brink with this newest chapter in the God is Dead universe.  Available with a Regular, Iconic, and Gilded Retailer Incentive Covers by Jacen Burrows, an Enchanting Cover by Gardenio Lima, a Carnage Wraparound Cover by German Nobile, and an End of Days Cover by Raulo Caceres.
Visit the Comic Shop Locator Service to find a comic book store near you –http://www.comicshoplocator.com/Home/1/1/57/575