These are the new Avatar Press comic books coming to comic shops on Wednesday 4/29/15
Crossed: Badlands #76
PRODUCT DESCRIPTION:      Kieron Gillen continues his tale of Crossed set in two times.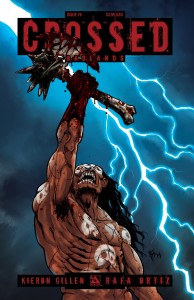 The modern day outbreak and a previously unheard of original outbreak in the ancient past!  As horrific megafauna and giant reptiles threaten every move, witness the near extinction of man at the hands of grinning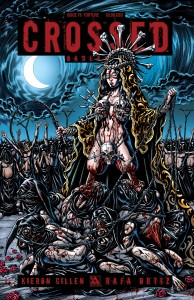 monsters in this violent and terrifying primitive world.  There is no help, there is no hope.  There is only the Crossed.  Available with Regular Cover by Fernando Heinz, Wraparound and Megafauna Mayhem Covers by Rafa Ortiz, Torture Cover by Raulo Caceres, Art Deco Cover by Michael DiPascale, and a special Red Crossed Incentive Cover also by Heinz.
God is Dead #34
PRODUCT DESCRIPTION:       Zeus has been resurrected and his fury knows no bounds.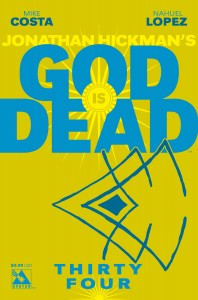 The Titans have taken the brunt of the greatest of the gods anger and now in the aftermath of the reclaiming of Olympus, only one thing remains.  Now comes the inevitable march for rule over the remaining realms.  But something is different this time.  The fates have aligned to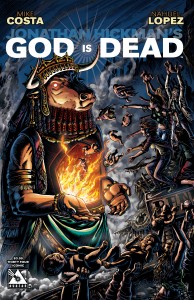 bring unforeseen powers to bear and not even the petty gods can alter this coming onslaught!  Available with a Regular Cover by Jacen Burrows, an Enchanting Cover by Gardenio Lima, a Carnage Wraparound Cover by German Nobile, End of Days Cover by Jose Luiz, Iconic Cover by Raulo Caceres, and a special Gilded Incentive Cover also by Luiz.
War Stories #8
PRODUCT DESCRIPTION:      As the full horror of the Soviet advance becomes clear, the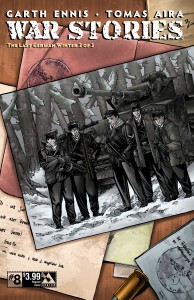 little group of German refugees makes its way through the dark woods of East Prussia. Romance flares between our heroine and one of her saviors, but these German war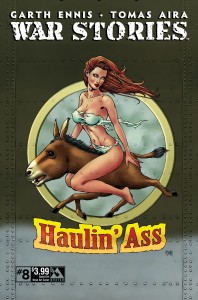 heroes are not all they seem. And the road to salvation is a dangerous one, growing more so with every step along it. Part two of The Last German Winter, by Garth Ennis and Tomas Aira. Available with Regular &Wraparound Covers by Tomas Aria, and Good Girl Nose Art & Battle Damage Retailer Incentive Covers by Matt Martin.
Visit the Comic Shop Locator Service to find a comic book store near you –http://www.comicshoplocator.com/Home/1/1/57/575