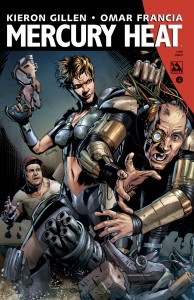 Kieron Gillen's brand new ongoing sci-fi series, Mercury Heat will be free to sample on ComiXology tomorrow, Wednesday 5/20/15.  This special issue was a part of Free Comic Book Day this year and now as a way of reaching out to fans who couldn't make it to the big event or didn't have a participating comic shop near them, everyone will be able to read this premiere installment free digitally on ComiXology.
Mercury Heat introduces us to Luiza, a little girl with big dreams and a problem.  In the future your occupation is decided by your neuroprofile – an automated system determines based on your genetic markers and predispositions what you will do in the future.  Luiza just wanted to be a police officer.  She wanted to help people and keep the peace.  But her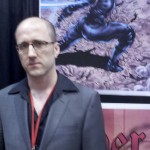 profile was far too unstable…in fact there are precious few occupations for this particular set of markers.
Now Luiza is a bounty agent on the wild west frontier of Mars.  Tracking down illegal mining henchmen and cyborgs is all in a days work for her.  And you can find out what makes Luiza special in this great debut issue.  Check it out and look for Mercury Heat #1 coming up in July!