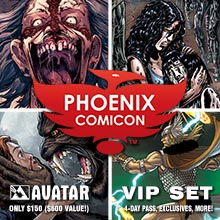 The Phoenix Comic Con is coming up at the end of the month and Avatar Press is bringing an incredible list of guests to the show.  Fans who have purchased the amazing VIP packages in the past have enjoyed unprecedented access to the creators and an instant library of Avatar graphic novels and special editions.  This year with Jacen Burrows and Max Brooks headlining the event, the opportunities are even greater.
The Avatar VIP packages get you a 4-day ticket to the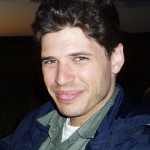 convention and over $600 worth of value in one super package.  There are still a few packages left from the scant 100 available.  The content of the package includes:
16 graphic novels (that are different than ones offered in previous years VIP sets), 5 beautiful Art Prints, a special Crossed 75 VIP cover, a set of God is Dead #1-25  and special access to the autograph lines!  It's over $600 retail value for only $150! Only 100 will be sold, and we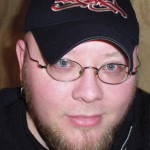 sell out every year, so please grab one right away!
All Avatar guests Autograph Access – all VIPs get to line up first for Max Brooks and Jacen Burrows and get up to 30 items signed from each!
Avatar Graphic Novel Library – 16 Avatar graphic novels! Immerse yourself in the best Avatar has to offer with this massive collection of graphic novels by Warren Ellis, Garth Ennis, Alan Moore and more!  These are not volumes you have gotten in previous VIP sets!  Included are: Aetheric Mechanics,  Crecy,  Frankenstein's Womb Graphic Novels.  Captain Swing TPB, Crossed Volumes 9,10,11,12 and Wish You Were Here Vol 4, Fashion Beast TPB,  Ferals Volumes 1,2,3 and Stitched Volumes 1,2,3.
Each set includes these amazing limited edition comics:
Crossed: Badlands #75 VIP Pure Art VIP – This horrifically scarce edition is only available with VIP sets and is limited to just 250 copies!
God is Dead #1-25 – One copy of each issue, all filled with Jacen Burrows covers! Jacen has drawn loads of covers for this series, with this special group we'll make sure your 25 issues all have Burrows covers.  You can get them all signed at the Avatar booth! (only 1 cover pictured, but you get 25 comics!)
Extinction Parade Art Prints– An amazing set of 5 terrifying art prints showing the "Stages of Death"!  These images were written by Max Brooks and are all-new illustrations by Raulo Caceres.  Get them all signed by Max Brooks at the Avatar booth!
Avatar Phoenix Comic Con VIP Packages can be purchased here:  http://www.comcav.net/products/phoenix-comicon-2015-avatar-vip-set