The latest issue of Alan Moore's incredible future for the Crossed franchise is available in comic shops now.  Future Taylor has uncovered some disturbing secrets from the interaction with the strange Crossed civilization.  She and the survivors who have lived in relative peace 100 years after the Crossed outbreak are beginning to see the meaning behind the strange occurrences and discoveries.  And that knowledge could spell ruin for the human race once and for all.
Crossed +100 #5
PRODUCT DESCRIPTION:     Future Taylor discovers the shocking truth about the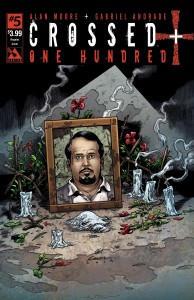 Crossed infection and their evolution.  The impossible has occurred and the future holds an ominous and seemingly unstoppable horror from taking root.  Alan Moore, the man who revolutionized the comics medium, returns to monthly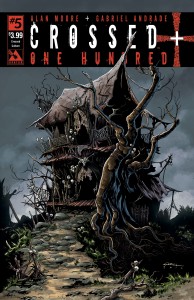 comics and puts his unique stamp upon the Crossed universe, as he and artist Gabriel Andrade paint a vivid picture of the future 100 years after the outbreak! This multi-layered story delivers a new brand of horror to Crossed fans at the hands of the scribe that redefined the comics medium.
Ask your local comic shop to reserve a copy of Crossed +100 #5 for you today and step into a meticulously created world by a master storyteller!