If you are a fan of Warren Ellis' incredible Vertigo work over the years, then you must check out his Avatar Press dark hero stories which are all currently on sale at ComiXology for a limited time.  This Heroic Bundle includes 21 comics collecting the story arcs of No Hero, Black Summer, and Supergod.  Each of these stories is Ellis at his best, developing complex characters and moral conflicts that ultimately produce an incredible tale.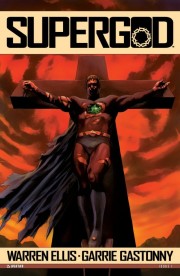 SUPERGOD: praying to be saved by a man who can fly will get you killed. From the creator of THE AUTHORITY and PLANETARY comes the craziest and most horrifying superhero comic you've ever read! In the world of SUPERGOD, superhumans are the ultimate expression of the Messiah complex, and scientists can build Messiahs who will fly down from the skies to save the world. No-one thought about how they'd do it — or even if they'd want to. So begins the apocalyptic tomorrow of SUPERGOD — the story of how supermen killed us all and ended the world just because we wanted to be rescued by human-shaped things from beyond Science itself! Take every superhero comic ever published, shove them into a nuclear-powered blender, soak it in bad vodka and set the whole thing alight — and SUPERGOD will crawl out and eat your brain!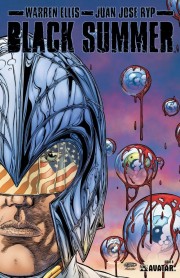 BLACK SUMMER:  The world goes black as Warren Ellis unveils his all-new super-powered heroes and villains epic! With art by the genius Juan Jose Ryp, no fan of The Authority or Wanted will want to miss this bleeding-edge eight issue masterpiece. This #0 features an original story that leads directly into the full-size series. When the political situation in the USA becomes more than Horus can stand, he moves to take matters into his own hands. But since not all his other team-mates aren't so eager to throw the world into chaos, an epic conflict starts to form. And no one will be safe as the bodies start to fall.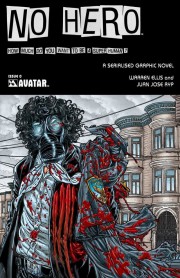 NO HERO:  Warren Ellis and Juan Jose Ryp, the team behind the fan-favorite BLACK SUMMER, are revolutionizing masked heroes yet again in a hot new series! Dead heroes in the dirt. A killer capable of almost supernatural tortures. Five generations of the world's only superhuman group. A forty-year legacy of standing for the rights of freedom and safety. A young man obsessed with the need for street justice. How much do you want to be a superhuman? How badly does he want it? Bad enough to bring on the last days of an American legend? If he even gets to survive that long? Forty years ago, a group of superhumans emerged in San Francisco, guided by the man whose unique new drugs gave them their incredible powers. But the team is not the only thing that's advanced over the years, and there are no easy victories when their luck finally begins to run out…
Get the limited sale price on this bundle through June 14th here:  https://www.comixology.com/Warren-Ellis-Heroic-Bundle/page/1975