These are the new Avatar Press items arriving in comic book shops this Wednesday 6/10/15:
Crossed +100 #5
PRODUCT DESCRIPTION:     Future Taylor discovers the shocking truth about the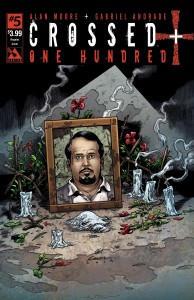 Crossed infection and their evolution.  The impossible has occurred and the future holds an ominous and seemingly unstoppable horror from taking root.  Alan Moore, the man who revolutionized the comics medium, returns to monthly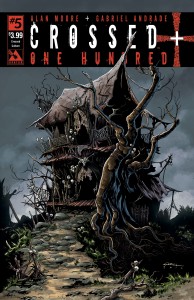 comics and puts his unique stamp upon the Crossed universe, as he and artist Gabriel Andrade paint a vivid picture of the future 100 years after the outbreak! This multi-layered story delivers a new brand of horror to Crossed fans at the hands of the scribe that redefined the comics medium.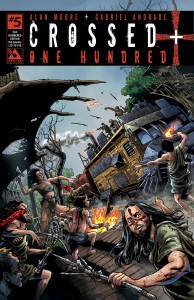 This masterwork is a self-contained whole new world; no prior knowledge of the Crossed series is needed.
All the covers for the series have been planned out by Alan Moore, with the images enriching and expanding on the series.  Clues and glimpses of what came before, and what might be, are found throughout the variant covers.
Uber Vol 4 TP
PRODUCT DESCRIPTION:     With the realization that the Nazis have pulled far ahead of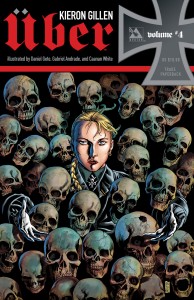 the Allies in development Ubers, hope starts to fade and some greater gambles are taken in hopes of turning the tide.  Desperation is the currency of the hour with no end in sight to the horrors of enhanced human warfare.  Kieron Gillen, Daniel Gete, and Caanan White spin a new chapter of fear and genocide in the pages of the most devastating war coming being published. And the origin and first missions of Sieglinde and the German Battleships are declassified and illustrated by Gabriel Andrade!  The German war machine has been developing the most powerful weapons ever fashioned.  Their Battleship class Ubers are like living atom bombs annihilating every obstacle in their paths.  But they were once humans, and it takes more than power to make a monster, so what could have forged such cold, murderous beasts?  The past is revealed as we see the genesis of the German Battleships in this groundbreaking alternate history war story!  This volume collects issues #18 – 22 of the ongoing Uber comic book series and the Uber 2014 Special.
Boundless Comics:
Lady Death: Apocalypse #5
PRODUCT DESCRIPTION:     As a horde of the blood-infected attack Sanctum House,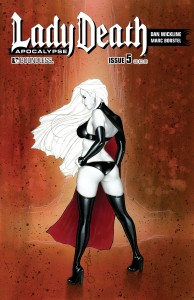 Lady Death finds herself giving into the power of the Void which makes her extremely dangerous to friends and foes. Meanwhile Queen Tormina completes the sacrifice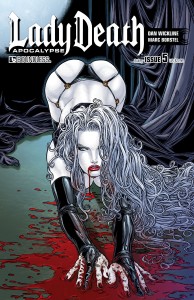 ceremony and her senior advisor stands revealed. Available with Regular Cover by Jason Eden, Wraparound Covers by Renato Camilo, Sultry, Alternate History, & Pure Art Covers by Juan Jose Ryp, Auxiliary by Marcello Mueller & Classical order incentive cover by Marco Turini.
Visit the Comic Shop Locator Service to find a comic book store near you –http://www.comicshoplocator.com/Home/1/1/57/575