These are the new Avatar Press digital items arriving on ComiXology this Wednesday 6/10/15:
Alan Moore's Another Suburban Romance GN
PRODUCT DESCRIPTION:     One of the seminal works from the writer who defined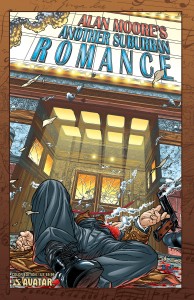 modern comics, Alan Moore, is remastered for the first time in breathtakingly vibrant color! Alan Moore's performance works making up the play Another Suburban Romance are lavishly illustrated as full sequential stories. Comprised of three major pieces, adapted from Moore's original presentations by frequent collaborator Antony (Fashion Beast) Johnston, this original graphic novel is completely illustrated by Juan Jose Ryp. Running from the 1920's Chicago-style killings in Old Gangsters Never Die, to the ruminations on modern life in the namesake piece Another Suburban Romance, this powerful work is an essential piece of the Alan Moore graphic novel library that no fan will want to miss!
Crossed +100 #5
PRODUCT DESCRIPTION:     Future Taylor discovers the shocking truth about the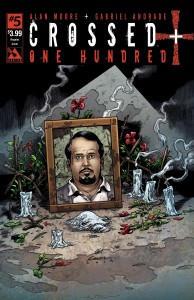 Crossed infection and their evolution. The impossible has occurred and the future holds an ominous and seemingly unstoppable horror from taking root. Alan Moore, the man who revolutionized the comics medium, returns to monthly comics and puts his unique stamp upon the Crossed universe, as he and artist Gabriel Andrade paint a vivid picture of the future 100 years after the outbreak! This multi-layered story delivers a new brand of horror to Crossed fans at the hands of the scribe that redefined the comics medium.
Boundless Comics:
Lady Death: Apocalypse #5
PRODUCT DESCRIPTION:     As a horde of the blood-infected attack Sanctum House, Lady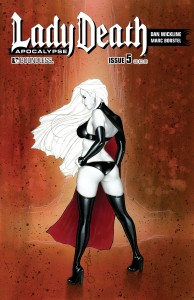 Death finds herself giving into the power of the Void which makes her extremely dangerous to friends and foes. Meanwhile Queen Tormina completes the sacrifice ceremony and her senior advisor stands revealed.