These are the new Avatar Press items coming to comic shops on Wednesday 7/1/15:
God is Dead #37
PRODUCT DESCRIPTION:      It all changes right here! As volume seven of Mike Costa's epic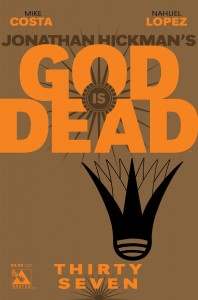 odyssey starts, everything you know is out the window. Avatar's most messianic book undergoes it's most bizarre resurrection yet as we re-create a world where… all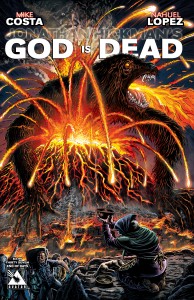 the Gods are dead? Join in the most innovative mythology mashup ever created as God is Dead continues to redefine fantasy in Avatar style! Available with a Regular Cover by Jacen Burrows, End of Days and Enchanting Cover by Raulo Caceres, Iconic Cover by Jose Luis, Carnage Wraparound Cover by German Nobile, and a special Gilded Retailer Incentive cover also by Caceres.
Uber #26
PRODUCT DESCRIPTION:      The Allies have their backs to the ocean and the Nazis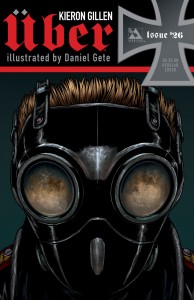 continue their path of fire as the Great Burn continues! HMH Churchill is finally deployed in the field, can she be the Battleship destroyer Britain is praying for? The stakes
couldn't be higher as it all builds to next issue's game-changing event that no one is expecting! Available with Regular, Wraparound, War Crimes, and Blitzkrieg Covers by Daniel Gete, and a Propaganda Poster Cover by Michael DiPascale.
War Stories #10
PRODUCT DESCRIPTION:     A brand new story arc begins here! "T"was England bade our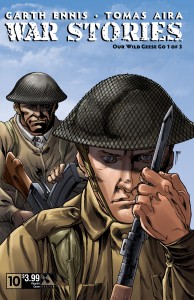 wild geese go, that small nations would be free…" In the Second World War, any Irishman wanting to fight the Nazis had to join the British army- the Republic of Ireland having declared neutrality when the war began. Now, a small unit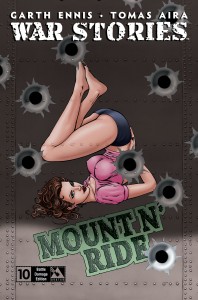 of Irish soldiers join the advance into Germany- where the going is rough and the enemy nowhere near surrender. And old tensions remain from Ireland's own struggle for independence, as well as the bloody civil war that followed. Part one of Our Wild Geese Go, by Garth Ennis and Tomas Aira. Available with Regular &Wraparound Covers by Tomas Aria, and Good Girl Nose Art & Battle Damage Retailer Incentive Covers by Matt Martin.
Visit the Comic Shop Locator Service to find a comic book store near you –http://www.comicshoplocator.com/Home/1/1/57/575