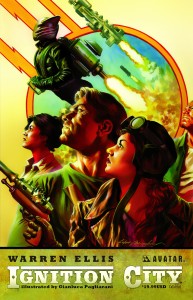 Most comic book fans remember the classic pulp characters with some fondness.  Iconic sci-fi heroes like Flash Gordon, Buck Rogers, and Doc Savage put their distinctive stamp on the collective psyche of comic readers long ago and they continue to do so today.  But what happens when you take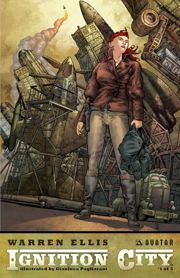 one of the modern masters of comic books and let them create their own homage to these longstanding icons?
Warren Ellis created a vibrant future pulp world in the pages of Ignition City.  A young woman searches for the fate that became of her adventuring father in the dusty streets of an old space port town.  What follows is pure classic sci-fi inspired magic.  This incredible series is lavishly illustrated by Gianluca Pagliarani and is available in both print and digital editions.
IGNITION CITY:
PRODUCT DESCRIPTION:  Grounded space pilot Mary Raven has come to the interzone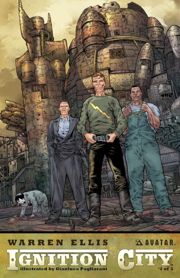 settlement in the middle of Ignition City, Earth's largest spaceport, to recover the effects of her dead father… or so people think. Mary really wants to know how he died, and who was responsible. But today might be her last day on Earth, trapped on the last spaceport where no one cares about murder, and the only real currency is fear. She has her dead father's ray gun, and that's enough for space hero-turned-arms dealer Lightning Bowman to want her dead. But when she finds her father's lost diary she discovers something nobody else in Ignition City knows… and they'll want her dead for that, too. From Warren Ellis, the writer who reinvented science fiction in comics, comes IGNITION CITY, a retropunk "future of the past" where spaceships belch smoke and arguments are settled with blaster pistols.