This is the new Avatar Press item coming to comic book shops on Wednesday 8/19/15:
God is Dead #41
PRODUCT DESCRIPTION:       After all the insanity and the misery the human race has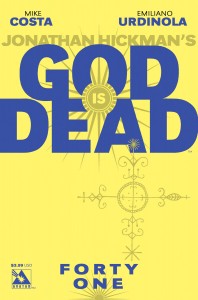 endured, do they have the fortitude left to recover from the unfolding horror?  Mike Costa spins the latest shocking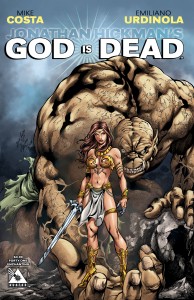 chapter in the world of divine destruction. Available with a Regular Cover by Jacen Burrows, End of Days, Enchanting Covers by Jose Luis, Iconic Cover by Juan Frigeri, Carnage Wraparound Cover by German Nobile, and a special Gilded Retailer Incentive cover also by Frigeri.
Ask your local comics retailer to reserve a copy of God is Dead for you today!