These are the new Avatar Press items coming to local comic book shops on Wednesday 9/2/15:
Crossed: Badlands #84
PRODUCT DESCRIPTION:      Convinced by Morgan and Olivia that their food source could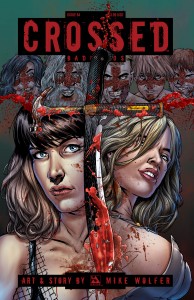 either be compromised or possibly even be the source of whatever started the Crossed epidemic, the bridge dwellers begin to re-think their survival strategy, and select a "procurement team" to venture to the ground in the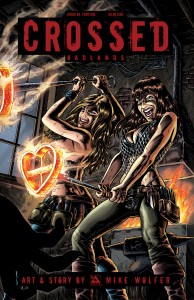 search for supplies and untainted food. But having lived in the relative safety that the collapsed bridge provides since the beginning of the outbreak, can the team possibly be prepared for what they will find down on the ground, among the roving gangs of Crossed? Available with Regular Cover by Christian Zanier, Wraparound & Torture Covers by Raulo Caceres, C-Day Worldwide Cover by German Nobile, Art Deco Cover by Michael Dipascale, and Red Crossed Incentive Cover alsoby Zanier
Providence #4
PRODUCT DESCRIPTION:      Alan Moore's horror event of the year continues to push the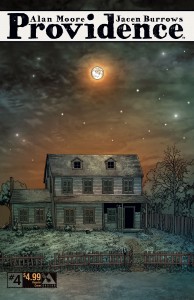 limits of the comic book medium with an incredible ad-free 40 page fourth issue!  Robert Black's journey into the heart of the USA in 1919 continues as he finds the citizens of Salem to be most interesting. This work has been researched and developed by Moore and Burrows over the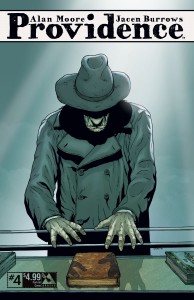 course of several years.  The end result is an amazing tome of Lovecraftian influenced nightmares where Moore has written every cover, every single page, and every nuance of this work to create his most fully-realized vision to date.  Fans of Moore's immersive style and meticulous grasp of storytelling will be thrilled to add this essential piece of comics history to their collections!  Available with Regular, Pantheon, Portrait, Dreamscape Wraparound, Women of HPL, and a special Ancient Tome Incentive cover, all by collaborator Jacen Burrows.
War Stories #12
PRODUCT DESCRIPTION:       Hayes and Aitken's private war is suddenly interrupted, as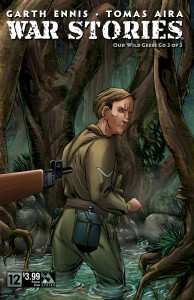 the gentlemen of Germany's Waffen SS take a hand. Captured and brutally interrogated, the future seems bleak for the two young Irishmen- but the battle about to begin will eclipse their fears and feuds completely. A stand is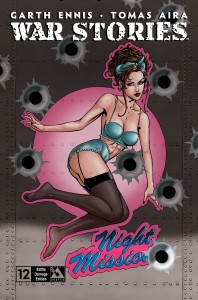 taken against the greater enemy, in the third and final part of Our Wild Geese Go. Available with Regular & Wraparound Covers by Tomas Aria, and Good Girl Nose Art & Battle Damage Retailer Incentive Covers by Matt Martin.
Boundless Comics:
This is the new Boundless Comics item coming to local comic book shops on Wednesday 9/2/15:
Lady Death: Apocalypse #0
PRODUCT DESCRIPTION:      Special triple-sized issue!  The biggest Lady Death issue of her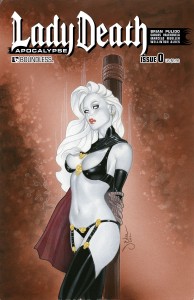 24 year illustrious history is here!  Lady Death: Apocalypse #0 is a super-sized, self-contained issue that features a 33 page all-new story from Brian Pulido titled "Merciful Fate".  The first chapter features the stunning fully-painted art of Carlos Valenzuela!  Series artist Marcelo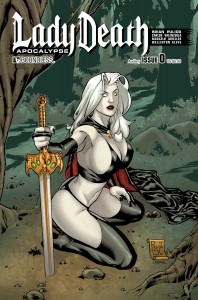 Mueller lavishly illustrates the second chapter.  This special also features the long-lost Lady Death: Dark Horizons story drawn by Wellinton Alves that has to date only been seen in B&W, now brought to full beautiful color. But that's not all!  It also includes a huge gallery of unseen  sketches and original pencil art through the ages including Ivan Reis and Renato Camilo! Also featuring original inks without lettering from Ron Adrian, Richard Ortiz, Marcelo Mueller and much more!   Available with Regular Cover by Jason Eden, Sexy & Auxiliary Covers by Paulo Siquiera, Blazing Hot & Pure Art Covers by Matt Martin, Monstrous Cover by Juan Jose Ryp, Painted Cover by Marco Turini, Leather Cover by Marcelo Mueller, and an amazing Character Design Incentive Cover also by Martin.  This Character Design is the original one created for new Boundless series costume, never-before-seen!  Lastly, you don't want to miss the Century Set for this issue, featuring 5 pencil pieces from Renato Camilo and limited to just 100 copies of each!
Ask your local comic shop retailer to reserve copies of these books for you today!