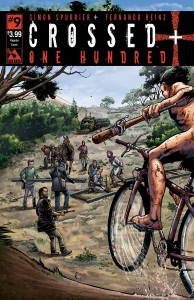 They say it's like "riding a bicycle" – you never forget how to do it.  And this week in Crossed +100 #9 we see an entire cell of Crossed illustrating that point.  Though they are clearly the mad depraved monsters we've come to expect, they still remember how to ride bikes only instead of for leisure it's for riding into battle.  Strangely enough…they didn't think to remove the seats on the bikes which would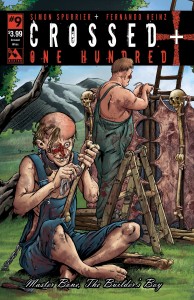 have been just about perfect for the present day Crossed's penchant for self mutilation in the course of their jubilant murder sprees.
Simon Spurrier is delivering a continually fresh take on the future world of the Crossed following up on the initial design by master scribe Alan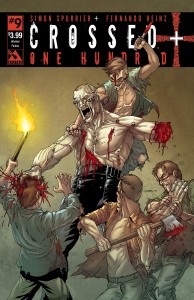 Moore.  The twists and turns of this tale are incredible and sure to keep you guessing about the true motivations behind the machinations of the Crossed.  Stop by your local comic shop today to catch up on this unique horror story about the evolution of both human and Crossed one hundred years in the future.