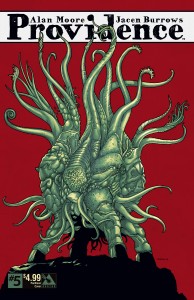 Fans of Alan Moore and H.P. Lovecraft are devouring the evolving story of reporter Robert Black as he discovers a hidden world just below the surface in Providence.  Comic book collectors and literary scholars are marveling at the intricate and hidden details within the pages of the series unfolding under Moore's careful guidance.   The story is perhaps Alan Moore's most realized project to date with the
scribe literally controlling every detail and nuance of the book.  Brilliantly illustrated by co-creator Jacen Burrows, the story is captivating audiences and being called the "Watchmen of horror" by legions of dedicated fans.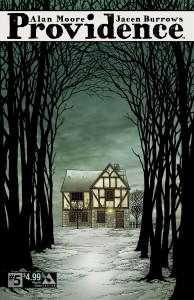 Stop by your local comic shop to catch up on the issues of this masterpiece which have been released so far.  A trade collection is over a year away at this point and the only way to discover the true secrets of Providence is to read the unfolding horror in the pages of the single issues.