These are the new Avatar Press items coming to comic shops on Wednesday 11/11/15:
Crossed: Badlands #89
PRODUCT DESCRIPTION:      All of his life Jack took the safe route – he went to the safe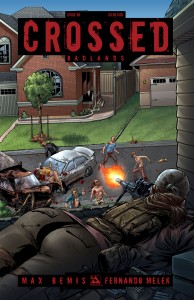 school, got the safe career, and developed the safe existence.  He never expected to hear from his delinquent younger brother ever again much less as the Crossed infection began to spread across the country.  Now a lifetime of decisions are being questioned as the misery of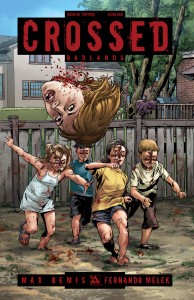 the Crossed further fracture the bond between brothers.  Max Bemis delivers a powerful story of a family divided.Available with Regular & Torture Covers by Christian Zanier, Wraparound Cover by Ignacio Calero, C-Day Worldwide Cover by German Nobile, Art Deco Cover by Michael Dipascale, and Red Crossed Incentive Cover also by Zanier.
Crossed +100 #11
PRODUCT DESCRIPTION:      Simon Spurrier has created some of the most fantastic and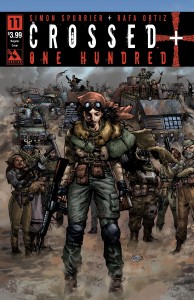 frightening visions of horror in comics.  And now the Crossed: Wish You Were Here scribe has taken the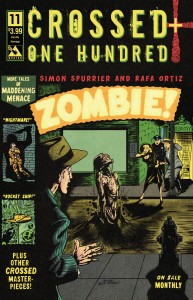 breathing world of Crossed +100 created by Alan Moore to new places with a terrifying arc. Future Taylor has seen close up that the Crossed have changed both in their behavior and their civilization.  But do those changes make them any less dangerous as the outbreak once again begins to spread.
War Stories #14
PRODUCT DESCRIPTION:      As the aerial bombardment of Japan steps up a notch,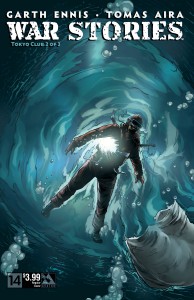 disaster beckons when the escort pilots flying from Iwo Jima find themselves with more than just the enemy to contend with. Life on the remote island gets better by degrees, but an unexpected guest at dinner brings our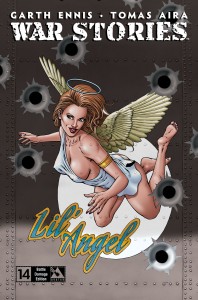 heroes face to face with the realities of the war they're fighting. Most frustrating of all, no matter how much punishment their homeland takes, the Japanese will not give up- resorting to desperate measures to oppose the American squadrons. Part two of the three part The Tokyo Club, by Garth Ennis and Tomas Aira. Available with Regular & Wraparound Covers by Tomas Aria, and Good Girl Nose Art & Battle Damage Retailer Incentive Covers by Matt Martin.
Ask your local comic shop retailer to reserve copies for you today!