These are the new Avatar Press digital items coming to ComiXology on Wednesday 1/20/16:
Crossed: Badlands #92
PRODUCT DESCRIPTION:      Say Anything singer and songwriter, Max Bemis, delivers a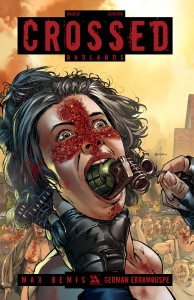 visceral story of Crossed misery that will leave you scarred for life. Every survivor knows that there is nothing but wretchedness awaiting them in a Crossed world. But despite the hate and fear that rule the infected domain, love still finds a way to creep into even the direst of circumstances. Is there hope for more than survival in a world of maniacs?
Crossed +100 #13
PRODUCT DESCRIPTION:      Simon Spurrier kicks things up a notch in the third arc of Alan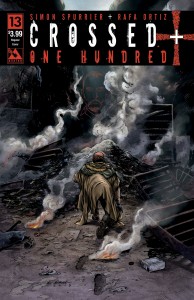 Moore's incredibly original Crossed future exploration! This issue features another time jump forward and fresh startling discoveries for Future Taylor! Humanity is on the offensive and having surprising success. Could there finally be an end in sight?
Crossed: Wish You Were Here Vol 2 GN
PRODUCT DESCRIPTION:      A group of Crossed plague survivors off the Scottish coast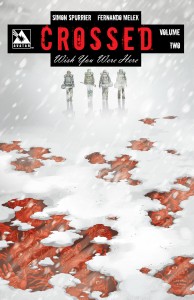 defend their isolated island and pretend that they are safe from the gleeful violent misery of the Crossed. Shaky has manipulated his fellow castaways into sending him away from the faux safety of the camp and into the ravages of the Crossed world. His desire to be rid of the infighting and petty squabbling puts him in a much deadlier world but his ultimate goals go beyond the survival and denial of those living on the Coast of Cava. This is his story, the search for meaning in in a world filled with homicidal maniacs. There is no hope. There's only the Crossed. Collects the second chapter of the runaway hit webcomic from www.crossedcomic.com.
Freakangels Vol 4 GN
PRODUCT DESCRIPTION:       Twenty-three years ago, twelve strange children were born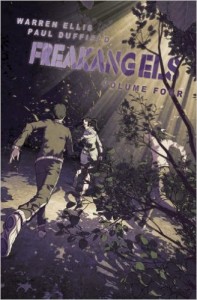 in England at exactly the same moment. Six years ago, the world ended. Today, eleven strange 23-year-olds are living in and defending Whitechapel, maybe the last real settlement in flooded London. They've made a new friend, and together they successfully defended their home from raiders – but the post-apocalyptic drowned London that the eleven Freakangels survive in is never a safe place, and never surrounded by friends. In fact, there's a serial killer stalking in their midst, and one of their own has broken their most valued rule. Volume Four of award-winning author Warren Ellis' ongoing web comic, Freakangels, is here!