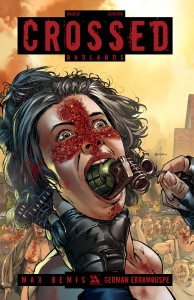 Max Bemis has been delivering some startling stories in the pages of Crossed: Badlands.  But none hit quite so squarely upon the comic collecting world as his two part story in Crossed: Badlands #91 – 92.  The conclusion of this tale of depravity in a comic shop is in stores today and will leave a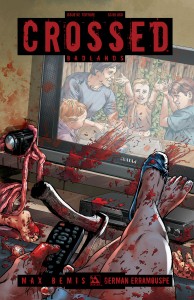 lasting impression on you.
This isn't your average Crossed story – truth be told its more of an indictment on some survivors than anything directly related to the infection.  When a group of the usual suspects at a local comic shop survives C-Day they start out on a twisted path that ultimately ends in horror and vengeance.  Add to that the new comic book adventures of the "Anti-Crossed" and you'll be reading a pivotal chapter in the Crossed mythos.
Ask your local comic shop to reserve copies of these two powerful issues and find out just how horrible a Crossed world can be.