So you're snowed in for the weekend with nothing to do but watch the flakes fall.  Why not make it an Avatar weekend and grab a few of these horrifying tales to warm up your chilly nights?
SUPERGOD TPB
PRODUCT DESCRIPTION:  SUPERGOD: praying to be saved by a man who can fly will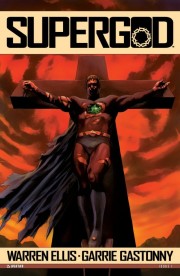 get you killed. From the creator of THE AUTHORITY and PLANETARY comes the craziest and most horrifying superhero comic you've ever read! In the world of SUPERGOD, superhumans are the ultimate expression of the Messiah complex, and scientists can build Messiahs who will fly down from the skies to save the world. No-one thought about how they'd do it — or even if they'd want to. So begins the apocalyptic tomorrow of SUPERGOD — the story of how supermen killed us all and ended the world just because we wanted to be rescued by human-shaped things from beyond Science itself! Take every superhero comic ever published, shove them into a nuclear-powered blender, soak it in bad vodka and set the whole thing alight — and SUPERGOD will crawl out and eat your brain!
ABSOLUTION VOL 1 TPB
PRODUCT DESCRIPTION:     ABSOLUTION introduces John Dusk, a superhero in a world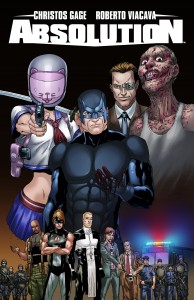 where they're a sanctioned arm of law enforcement. But this veteran hero has been scarred by his exposure to man's infinite capacity for evil, and he's seen one too many perpetrators escape justice. One day he crosses the line…lets a murderer die…and discovers it feels good. Surrounded by sociopaths, both human and superhuman, who he knows will prey on others if they're not stopped – permanently – how far will he go, knowing every step he takes puts him further on a collision course with his teammates Alpha and The Servant, not to mention his homicide detective girlfriend? Drawing on his experience writing for TV crime dramas like Law & Order: SVU, and his years of acclaimed work on comics like G.I. Joe: Cobra, StormWatch: PHD, and Avengers: The Initiative, Gage and artist Roberto Viacava bring you a riveting, no-punches-pulled saga that fans of shows like The Shield and Dexter, or comics such as Powers and Sleeper, won't be able to put down. He wants to be forgiven…but he doesn't want to stop.
CALIBAN TPB
PRODUCT DESCRIPTION:      Master storyteller GARTH ENNIS and Fashion Beast artist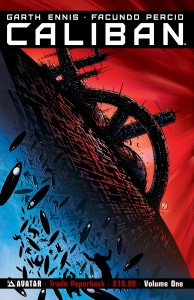 FACUNDO PERCIO team up to deliver a haunting new epic of science fiction horror. The crew of the Caliban travels hyperspace on nothing more than a routine trip for the giant vessel. Just human beings that have been inside a bit too long, confident of no other life in the Galaxy, and all the vastness of space to remind them how far they are from home. But when an impossible accident suddenly causes the Caliban to slam into an abandoned alien ship, a nightmare in space begins to unfold. Ennis delivers his unique brand of flawed characters, spot-on dialog, and trademark flare for the unexpected in a new tale in the vein of Alien.
Ask your local comic shop retailer to reserve these awesome trades for you before the snow starts to fall!