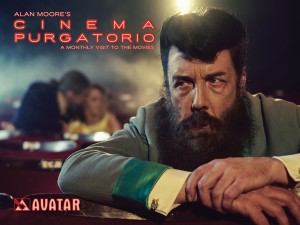 The curtain is about to rise on Alan Moore's fantastic new Kickstarter project Cinema Purgatorio, but before the feature starts you may want to visit the snack bar for some savory delights.  We've just added some amazing add-on items that will tantalize your collecting taste buds.  All of these items are extremely limited and are essentially first come first serve.  We'll do our best to help as many folks get these items as possible.
Here's how it works – fans who want to add these items simply need to increase their Kickstarter pledges by the additional amount and send us an email through Kickstarter to confirm what you are ordering.  We'll get your order updated and all set so everything ships together.  And without further adieu…the treats await you…
CODE PRU #1 7 #2 Connecting Covers Set – $8 Add On
These are the first two chapters of Garth Ennis' Code Pru story that lead into the continuing adventures in the pages of Cinema Purgatorio.  And this special set features an incredible connecting cover that make a unique image!
Providence #7 Paintings of Ghouls 4 Comic Set – $21 Add On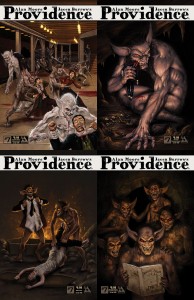 These amazing paintings of "Ronald Pittman" as seen in Providence #7 are available in a unique special limited edition cover set!  Painter Michael DiPascale has brought Jacen Burrows art to a surreal life here and these images are art directed and taken from the mind of Alan Moore himself.
Crossed +100 vol 1 Hardcover Signed by Alan Moore – $89 Add On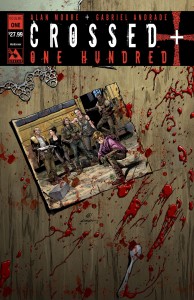 An incredibly rare opportunity to get one of a super limited number of the sold out Crossed +100 Vol 1 HC signed by the master himself, Alan Moore.  This is an easy way to add an essential piece of Alan Moore history to your collection but there are only a handful of these left.