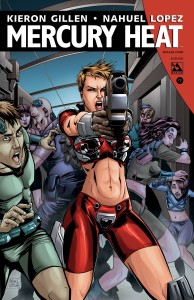 If you are a fan of Kieron Gillen's bombastic sci-fi adventure series about a kick ass bounty agent tackling cyber mercs and terrorists on Mercury, then you have come to expect a powerful tale packed with action and violence.  But what you may not know, is that Mercury Heat #7 which begins a new story arc also introduces an unexpected crossover element.  Spoilers ahead…
As Luiza fresh off her daring rescue of the mining colony on Mercury is called in to investigate a new problem, she encounters the unthinkable.  Apparently the Crossed virus isn't just fiction in this world as she uncovers that a facility that has gone dark is now overrun by infected.  This is the first ever crossover for either property and it marks a momentous event for Mercury Heat by putting its characters in the destructive line of sight of the grueling Crossed.  Can even someone as lethal as Luiza stop these monsters?  Or will she become a cyber-Crossed as the infection spreads?
Ask your local retailer to save a copy of this issue for you in their stores today!