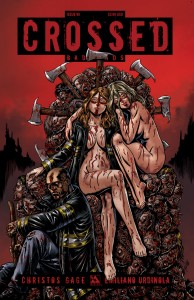 Christos Gage's alpha Crossed Smokey has been unstoppable since he first appeared in the now classed "Quisling" story arc.  In each installment we've seen the intelligence behind the eyes of this walking monster and have grown to fear him not only for his imposing physical dominance but also for his ability to plan and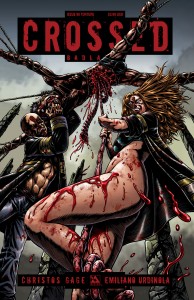 delay violent gratification.  Smokey has a plan and we are seeing it play out in the pages of Crossed: Badlands.
And while no one has been his physical equal…could he have met his match in the wickedly intelligent and merciless Crossed Twins?  These two women have proven to be insatiable monsters in their own right and they have the power over the one thing that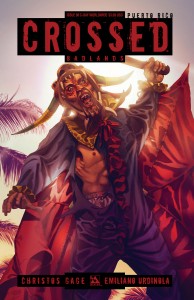 seems to matter to Smokey the most…
Find out what happens in the final Crossed Badlands arc leading up to issue #100.  Crossed: Badlands #98 is available in comic shops and digitally from Comic Cavalcade and ComiXology now!