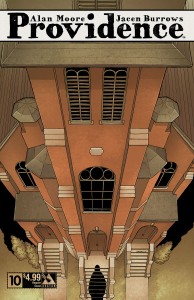 Alan Moore's incredible master class in Lovecraftian horror continues as it creeps toward its conclusion.  In the June Previews comic book retailers just placed their orders for the tenth issue of the seminal work by the writer who redefined an entire genre.  Alan Moore has delivered with Providence a terrifying tale in which the layers of sanity are
slowly peeled away leaving the unsuspecting Robert Black vulnerable to the creatures which live just below our perception.
If you have not read Providence – be sure to seek out the limited edition Providence Act 1 HC which is a perfect introduction to the story unfolding in its pages.  Ask your local comic shop to reserve copies of this incredible tale from the mind of a true master.