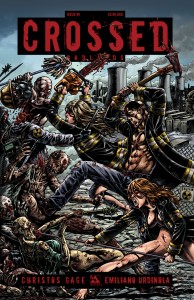 Crossed: Badlands #99 is in stores now revealing the next to last chapter of the fan favorite Smokey trilogy to eager readers.  Christos Gage developed one of the most enduring visions of the Crossed with the character earning a place of honor beside such notables as Horsecock and Howard Lorre.  Now as his story comes to a close and with it ushers in the end of Crossed: Badlands as a series, we turn our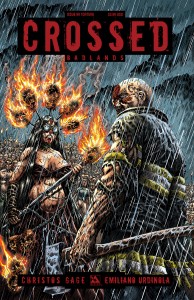 attention to the upcoming releases for the Crossed universe.  Avatar Press will be making announcements soon about the direction the series is taking and we are enjoying the run up to this momentous event with the centennial issue just weeks away.
Ask your local comic shop to reserve copies of the latest issue of Crossed: Badlands and catch up with the available library of trade paperback collections.