These are the new Avatar Press digital items coming to ComiXology and ComCav.net on Wednesday 7/27/16:
Crossed: Badlands #100
PRODUCT DESCRIPTION:     This is the way the world ends in the final issue of Crossed: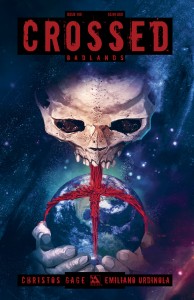 Badlands! Celebrate eight years and hundreds of stories from Garth Ennis' unrivaled horror series with this tremendous 64 page, ad-free issue! Join Crossed scribe Christos Gage as he delivers the final installment of the Smokey trilogy, and this may be the end of life as we know it! To help celebrate this amazing milestone we pack this
issue with incredible extras celebrating the original series artist Jacen Burrows! We start with including the rare original Jacen Burrows sketchbook and an enormous cover gallery of the rarest and previously uncollected Jacen Burrows Crossed covers. There is no help. There is no hope. There is only the Crossed.
Crossed +100 #17
PRODUCT DESCRIPTION:     Simon Spurrier barrels towards the ultimate confrontation in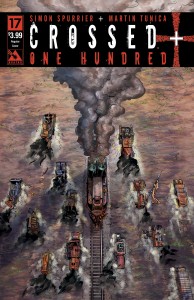 this penultimate issue of his startlingly original tale taking Alan Moore's Crossed +100 characters. The master plan of the Crossed is starting to take shape. Are we seeing the careful machinations of a prophet long dead unfold or is this a true step forward in the bloodthirsty Crossed's evolution? Future Taylor uncovers the hidden truth behind
the horror as this powerful tale continues to develop. Take the world of the Crossed, which nearly wiped out all of humanity, and allow Alan Moore to decipher how civilization will evolve from there. The end result is Crossed +100, a wholly original take on the future of the Crossed world that is so immersive it has its own language and multiple cultures developed within.