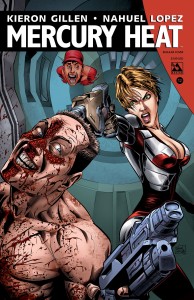 The final issue of Mercury Heat is solicited in the new August issue of Previews in comic shops now.  This last chapter takes Kieron Gillen's awesome explosive sci-fi masterpiece to the next level.  Luiza's adventures have shown us that despite your predilection for any particular psychological disposition, that drive to become something can overcome external obstacles.  Of course…we never said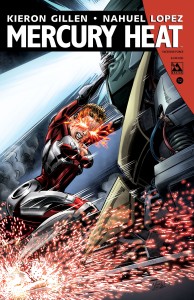 that meant she wouldn't cut a bloody swath across the outlaws populating the Mercury colonies.
Fans of the series will want to see where the scribe takes the adventure to and determine what is next for our favorite enhanced bounty hunter.  The series is a 100 mile per hour blender of sci-fi, horror, and action that has become one of the best new stories being told in comics.  The future for Luiza has yet to be written and we hope you'll join us wherever her story takes us.
Ask you local comic shop to reserve a copy of the last issue of Mercury Heat for you today.