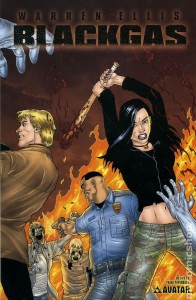 What to do on a lazy summer day?  If you are enjoying a vacation or just a few hours by the pool, we're giving out ideas for great Avatar books of the past to add to your summer reading list.
There are a LOT of zombie books.  There are gory zombie books, alternative zombie books, soap operas that are kind of about zombies but not really, and an entire universe of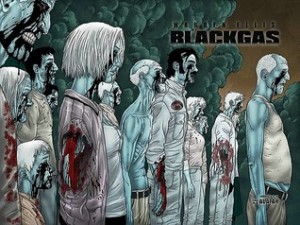 shambling dead stories out there to read if you want to.  Some of its good.  A lot of its not.  But if ever you find yourself asking, "what would Warren Ellis do" in regard to a zombie apocalypse, we have that answer for you.
Black Gas explores Ellis' tale of a disease that is belched up from deep in the Earth that
turns the inhabitants of a small island into undead creatures.  This is a story that gives you all the violence and horror of an Avatar book with the masterful storytelling touch of the one and only Warren Ellis.  This may very well be the definition of fun indulgent summer reading.  Pick up the trade paperback volume at your local comic shop, on Amazon, or digitally from ComiXology and ComCav to find out "WWWED" in full gory glory!