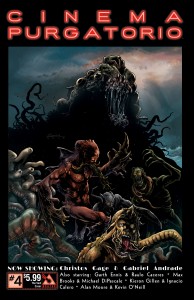 Fans everywhere have been enjoying the dark tales spinning out of Alan Moore's groundbreaking anthology series, Cinema Purgatorio.  If you haven't bought a ticket to the surreal imaginary theater in which these incredible anthology tales have been showing, we thought you would enjoy a closer look at some of them by title.
Our first discussion is on Christos Gage's The Vast.  This is a series for the giant monster fans.  We're in a world where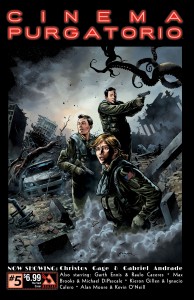 giant Kaiju creatures are real and we are following a group of soldiers as they attempt to escape from an area devastated by an Apex creature.  Christos Gage has really seamlessly blended the integration of these giant monsters into a world that is still recognizable.  We can relate to what the soldiers are going through and experiencing.  This comic is an awesome exploration of the monsters and the interaction of humans with these beasts.  If you are a fan of Godzilla or Pacific Rim, this story is perfect for you.  And it doesn't hurt that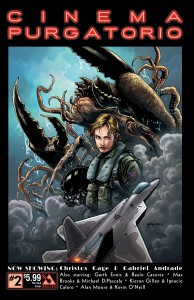 its illustrated by the one and only Gabriel Andrade (of Ferals fame).
Check out the latest issue of Cinema Purgatorio in comic shops and find out what all the buzz is about.