As most of the east coast attempts to survive a brutal heat wave that is breaking records every day, we at Avatar Press continue our summer reading list to help you cool off in the heat of this August.
Today we are talking about Warren Ellis and Mike Wolfer's tough as nails combat soldier, Gravel.  This series has it all –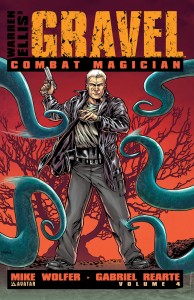 monsters, magic, and military!  If you are a fan of Hellblazer, Gravel is a series you should try out.  And it has a wealth of available trades to select from. If you've been let down by the summer blockbusters at the movies so far, set your sights on Gravel as a way of finding that big screaming epic that will leave an impression on you.
Visit your local comic shop or stop by ComiXology or ComCav.net to find copies of the wonderfully horrifying Gravel series today!