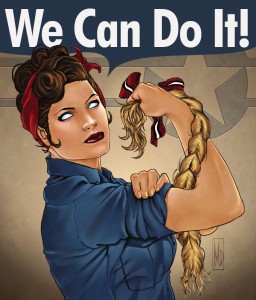 UBER: INVASION by Kieron Gillen & Daniel Gete has been funded on Kickstarter thanks to strong support from the fan community.  As our program heads into the final 72 hours of the campaign, thanks to this incredible support we're in a position to make a great Kickstarter even better by announcing new Stretch Goals and Add-On sales opportunities!
Stretch Goals: We are having so much support on the digital-only levels, we wanted to be sure to offer Stretch Goal items that could be enjoyed by every supporter. So we present two digital-only, but enormously cool, Stretch Goal Items that would be added to every single supporter to show our thanks for the tremendous support!
$39,000 — If we can hit this amount raised, every supporter will get this 64 page digital-only cover gallery collection! It features loads of the most rare covers that did not appear in any of the collections!  **ACHIEVED!!!**
$44,000 — At this amazing amount of support, we deliver another giant 64 pages of digital-only goodness that collects every other Uber cover not in print! Digital-only
Add-Ons: Any Kickstarter supporter at the $29+ pledge level can get these add-ons! Remember to email us at the "contact me" button to confirm your add-ons on the Kickstarter page proper.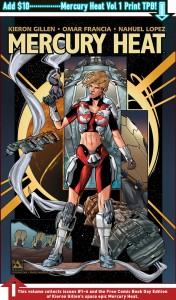 Add $13 — Mercury Heat #1-10 digital. Luiza enforces laws with extreme prejudice as a bounty agent on Mercury in Kieron Gillen's space epic!
Add $15 — Uber #3-6 digital. Uber: Invasion #3, 4, 5, 6 digital copies, each issue delivered as they are released in print. Print Comic & T-Shirt Add-ons — Add these amounts to your $24 or $89 and up Pledge!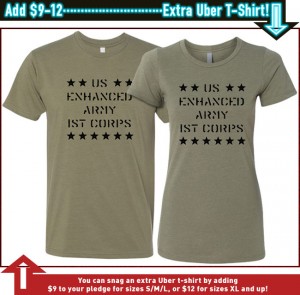 Add $9 or $12 — Extra Uber T-Shirt: You can snag an extra Uber t-shirt by adding $9 to your pledge for sizes S/M/L, or $12 for sizes XL and up!
Add $10 — Mercury Heat Vol 1 Print TPB: This volume collects issues #1–6 and the Free Comic Book Day Edition of Kieron Gillen's space epic Mercury Heat.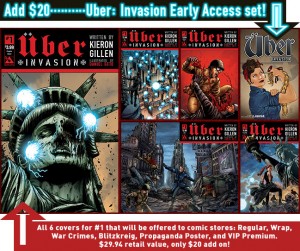 Add $20 — Uber: Invasion Early Access Set: All 6 covers for #1 that will be offered to comic stores: Regular, Wrap, War Crimes, Blitzkreig, Propaganda Poster, and VIP Premium. $29.94 retail value, only $20 add on!
Add $21 — Top Secret Century: Ultra-rare edition at a killer price for the lucky people who grab them. Uber: Invasion #1 Top Secret Century is limited to just 100 copies!
THANK YOU again for your support on this project, Kieron, Daniel, and all the Avatar staff are grateful for your efforts.  Together we are going to keep this pivotal project in comic shops for a long time to come!