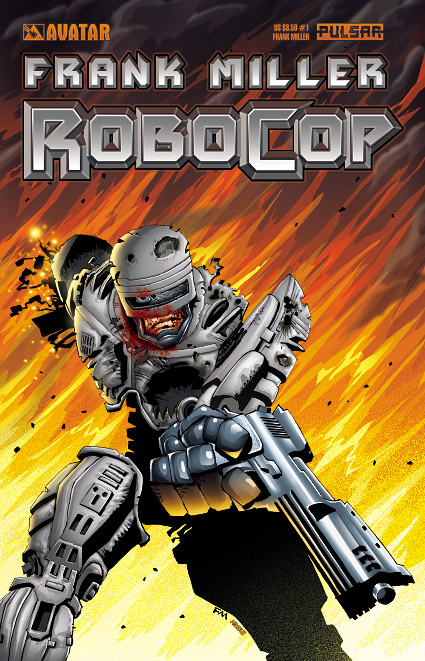 Robocop cover by Frank Miller
Robocop © and TM 1987 Orion Pictures. ARR
---
Frank Miller's ROBOCOP
Robocop in the store
Frank Miller's Robocop Trade Paperback now available!
Cover: Frank Miller
Story: Frank Miller
Art: Juan Jose Ryp
Readership: Mature Readers
Format: Full color, 216 pages
ISBN: 1592910351
Frank Miller's Robocop TPB gallery

At long last, Frank Miller's never before seen full Robocop epic finally sees the light of day! Robocop was one of the truly great bits of movie and pop culture magic from the 80's, and the cult of Robocop continues strong to this day. In full-on action, the Robocop story is told as Frank Miller always intended, composed straight from the master's original writings and scripts! The vast majority of Miller's insane ideas, vicious black humor, and robotic mayhem never made it to the screen, but every last bit is finally unleashed in this series! With sequential adaptation from Steven Grant and art by superstar Juan Jose Ryp (hot off Alan Moore's Another Suburban Romance) , the series will feature covers by Frank Miller, who is also personally supervising the creation of the entire project. It's guaranteed to be pure Miller insanity and one of the biggest books of the year!
Read more about:
See the press release below, and read additional commentary by Steven Grant.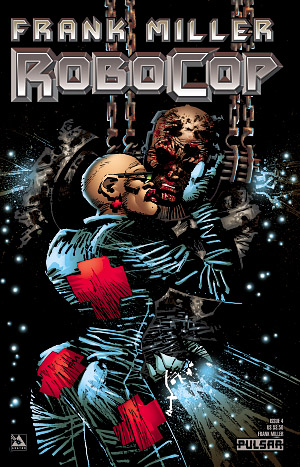 Original series cover #4 by Frank Miller.
The Future of Law Enforcement Returns with Frank Miller's Robocop from Avatar

Avatar Press has announced that it will publish a dark tale of technology, violence, and one man's struggle against a city gone mad with Frank Miller's Robocop, a full color mini-series from Avatar's licensed comic book imprint Pulsar Press. The saga features story and cover artwork by Frank Miller, interior art by Juan Jose Ryp (Alan Moore's Another Suburban Romance) and sequential adaptation by Steven Grant. A nine issue mini-series beginning in July, Frank Miller's Robocop joins an Avatar Press schedule that also includes work from Alan Moore, Warren Ellis, Garth Ennis, Joe R. Lansdale, and Tim Truman in the coming months.

"This story is going to be one of those punches to the gut that Frank Miller is so expert at delivering," says Avatar Press editor-in-chief William Christensen. "It knocks you on your ass even when you think you see what's coming. And if you think you see what's coming from Miller's Robocop, you're wrong. This is the Robocop story Frank Miller always intended, composed straight from his original writings and scripts. The vast majority of this material never made it onto the screen, but we're unleashing it in its full glory now. To think that there is this Miller story from just a few years after Dark Knight that has gone largely untold is amazing. We're working closely with Miller to get all of his original vision for the character into this comic book saga just the way he wants it, and he is overseeing and approving the entire process. We took this approach in a similar situation with Alan Moore's The Courtyard, and that series was one of the most critically-acclaimed and popular indy comics successes of the year so far, so I'm very confident we're hitting our marks on Miller's Robocop -- we're getting that pure Miller insanity into every drop of ink on the comic page."

"I'd seen the first Robocop movie maybe three days earlier. Thought it was a hoot, maybe the best superhero movie yet," recalls creator Frank Miller of the circumstances under which this epic got its start. "Straight out of the blue, producer Jon Davison called me up, offering me the script job for Robocop's sequel. I lunged at the chance. My first draft is a study in exuberance. I had a ball."

"These new adaptations of Frank's Robocop screenplays are a goldmine for Miller fans," says writer Steven Grant, who is adapting Miller's vision to the comic page for this epic. "They have the same wry, staccato punch that The Dark Knight Returns had, and were written in the same period, and there's tons in them that never made it through the Hollywood system onto the screen. The films are the Cliff's Notes versions of the screenplays."

"Space is always a big disadvantage in adapting screenplays; given that screenplays are often 120 pages long and a page of screenplay action can fill up several pages of a comic book, the adapter inevitably has to cut 75% of the screenplay out to fit it into the number of issues the publisher allots," Grant continues. "Not the new Robocop adaptations. Avatar said, "Tell us how many issues you need ­- what's important is we get everything in!" So we have all the room we want and that means everything's in there -­ every plot point, every character bit, every sly joke that Frank put in the screenplay. And all the dialogue. I'm there to facilitate things, but virtually everything in Frank Miller's Robocop comes directly from the screenplay. It's pure Frank Miller, in all his glory. And it's great Frank Miller. Miller fans will love it, The Dark Knight Returns fans will love it. Robocop fans will love it too, and it'll be an eye opener for anyone who wants to compare the comic to the movie version."

"Miller's storytelling ability has made him one of the very best creators in comics, and working on his scripts is what first attracted me to this project," adds series artist Juan Jose Ryp, whose eye-poppingly detailed visuals and precise linework on projects such as Shi: Pandora's Box and Alan Moore's Another Suburban Romance has drawn comparison with the likes of Geof Darrow and Brian Bolland. "The prospect of drawing Robo himself is also very appealing. He's a very interesting character, both graphically and in the possibility of exploring his visual personality. And of course, the background is this big, dirty, anarchic, ultra-violent metropolis. I don't see how this project could be more appetizing. "

Frank Miller's Robocop is a nine issue full color mini-series beginning in July 2003 from Avatar / Pulsar Press, with story by Frank Miller, art by Juan Jose Ryp, sequential adaptation by Steven Grant, and color by Nimbus Studios. For more information, contact william@avatarpress.net or see our website at www.avatarpress.com.