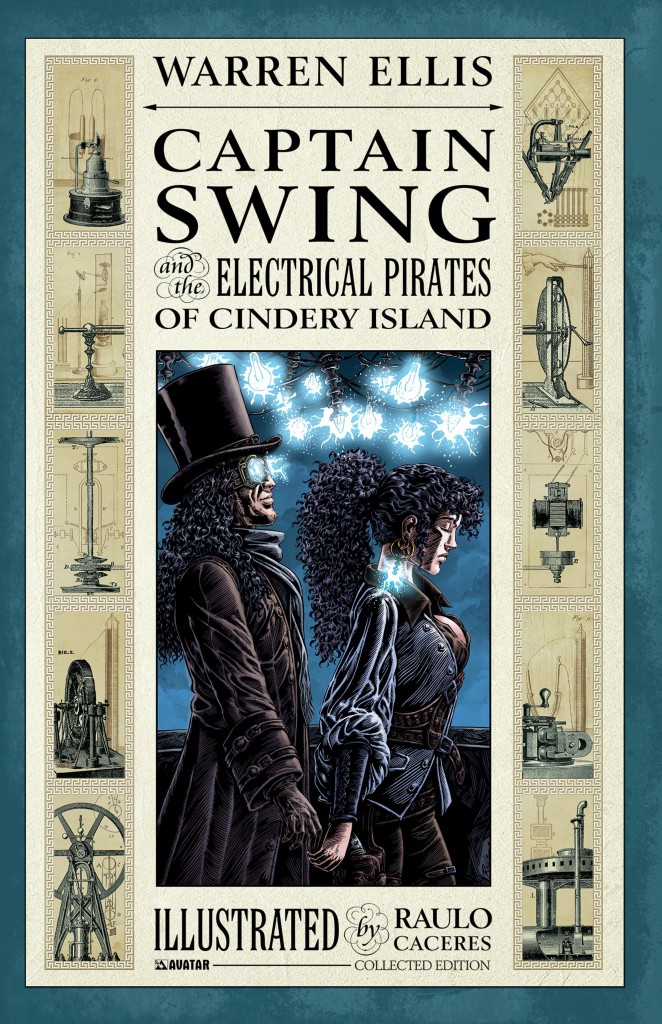 In stores today, Avatar Press proudly releases the graphic novel presentation of Warren Ellis' epic steampunk tale, CAPTAIN SWING AND THE ELECTRICAL PIRATES OF CINDERY ISLAND! Featuring the artwork of Raulo Caceres (CROSSED: PSYCHOPATH, CRECY), this crackling new collection features full color, a stunning woodcut style, and 128 pages that capture the classic literary feel from days of yore.
It's 1830, and London's newly-minted copper Charlie Gravel keeps seeing things he's not supposed to: a crooked Bow Street Runner with a flintlock revolver, high-flying vessels that are not supposed to fly, and the violent Scientific Phantasmagoria popularly known as Spring-Heeled Jack. With the coming of Captain Swing and his Electrical Pirates, history shall never be the same!
CAPTAIN SWING Softcover Edition
? Retail Price: $17.99 US
? ISBN-10: 1592911366
? ISBN-13: 9781592911363
? Diamond Item Code: AUG110836
CAPTAIN SWING Hardcover Edition
? Retail Price: $27.99 US
? ISBN-10: 1592911374
? ISBN-13: 9781592911370
? Diamond Item Code: AUG110837
To preview the first few pages of CAPTAIN SWING, please feel free to click on the link below!