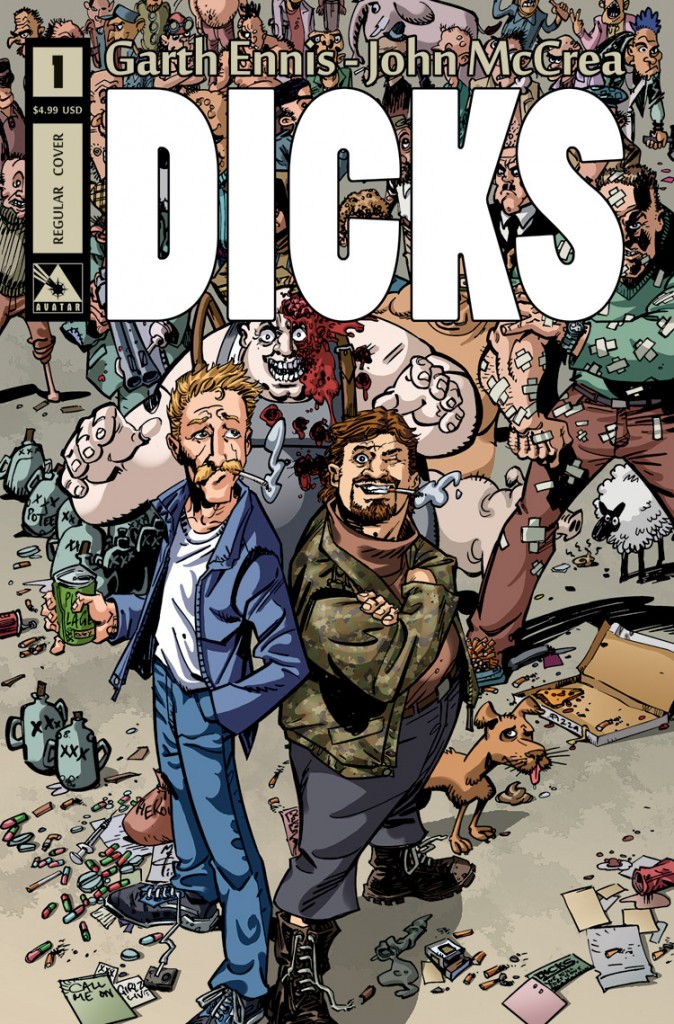 Like so many of his fans, we just can't get enough of Garth Ennis. In addition to the two horror ongoing series written by Garth Ennis (I'm speaking, of course, of STITCHED and CROSSED: BADLANDS), Avatar Press has completely re-mastered and colored the original DICKS series for a new release, hitting stores tomorrow! The new DICKS #1 COLOR EDITION revisits the two would-be investigators Dougie and Ivor, propelling them on hilarious and obscene adventures every month!
Issue #1, illustrated by the ever-incomparable John McCrea, introduces us to Dougie and Ivor, two "idiots from Belfast" who are down on their luck. Associated with the lowest kind of vermin in the city, they become wrapped up in the nefarious and deadly dealings of Ivor's Uncle Shuggie, crash a shotgun wedding with a wildly inappropriate Best Man speech, and end up on the outs with a fuming mad, musclebound thug named Big Billy. How do they get into such hijinks? Why, the filthy fun is in the telling! As an added bonus, this extra-sized first issue comes with ten pages of "bonus features" showcasing some of the most wickedly funny short stories and gags ever committed to print!
It's Garth Ennis and John McCrea, folks. We're talking about the creative team who turned DC Comics on its ear with The Demon and Hitman. These are two wacky gents from Belfast, telling outrageous stories about wacky gents from Belfast. And the best news of all… when all is said and done, and the original adventures of Dougie and Ivor are retold in glorious color, Ennis and McCrea are going to unveil an all-new DICKS epic that will be absolutely legendary. So keep an eye out for things to come!
Alas, we're getting ahead of ourselves. Why don't we just show you a few pages from this first issue, and you can whet your whistle for the journey to your local comic shop?
Be sure to take your pick from our two different variant covers!
DICKS #1 Color Edition ? Regular Cover
$4.99 Retail, Cover by John McCrea
Diamond Item Code: DEC110861
DICKS #1 Color Edition ? Offensive Cover
$4.99 Retail, Cover by John McCrea
Diamond Item Code: DEC110862