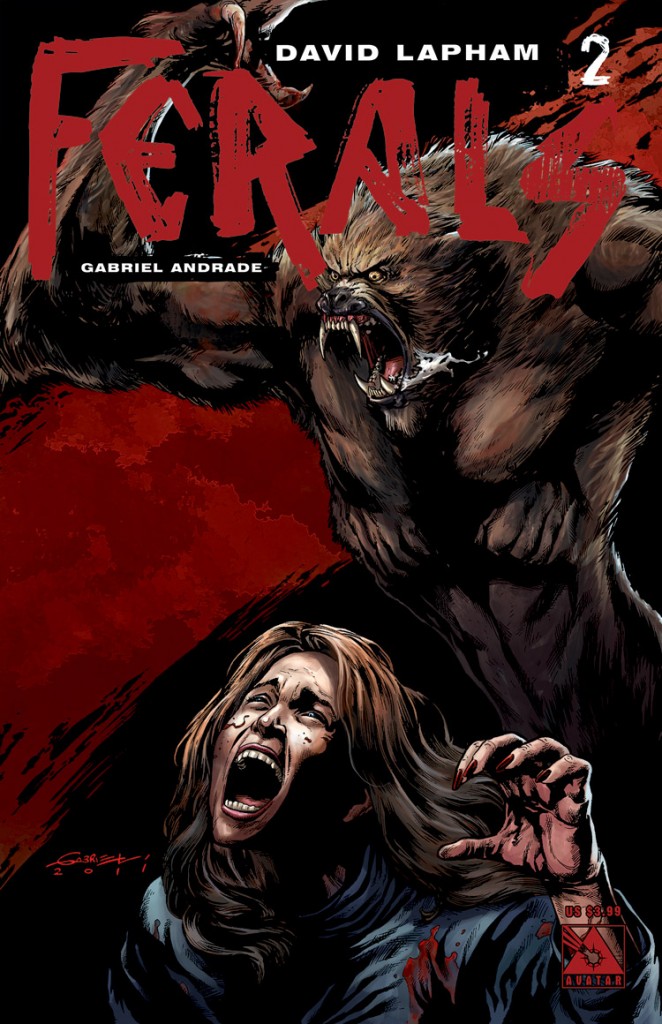 Ladies and gentlemen, we proudly present to viewing audiences everywhere the latest issue in David Lapham and Gabriel Andrade's monstrous masterpiece (or is it masterful monsterpiece?), FERALS #2!
Available for purchase at the finest comic shops and specialty stores, FERALS #2 continues the bloody, brutal tale of Officer Dale Chesnutt, a small town lawman drawn into an ancient culture of primal instinct and secrets worth killing over. Residents of Cypress, including his friends, are being hunted and torn apart by a fearsome beast. Reeling from the loss, Chesnutt is seduced by a mysterious woman, and becomes the target for the murderous, cunning werewolf that is terrorizing his town. Now, after suffering a terrible personal loss, Chesnutt finds himself a suspect on the wrong side of the law, and on a collision course with an animal that can eviscerate its prey with tooth and claw. How will our so-called hero survive?
What does David Lapham have to say about the monsters of FERALS? "Without revealing too much, this isn?t a take on the mystical werewolf, full moon and all that. This is about a different kind of person. There are different forms to them but they don?t change back and forth like the Hulk. A person who is feral could be your neighbor and you wouldn?t know it. He doesn?t change when he?s pissed or when the moon is full. The basic form starts with the idea of Alpha male on crack. There are several other tricks up a Feral?s sleeve, and we?ll see that and some other more altered forms of the Feral condition, but we?ll save that for the comics. The classic werewolf is about a monster. A monster story. This is a drama and a noir where the Ferals are a very real thing."
We happily have a preview of issue #2 to show you. Check it out!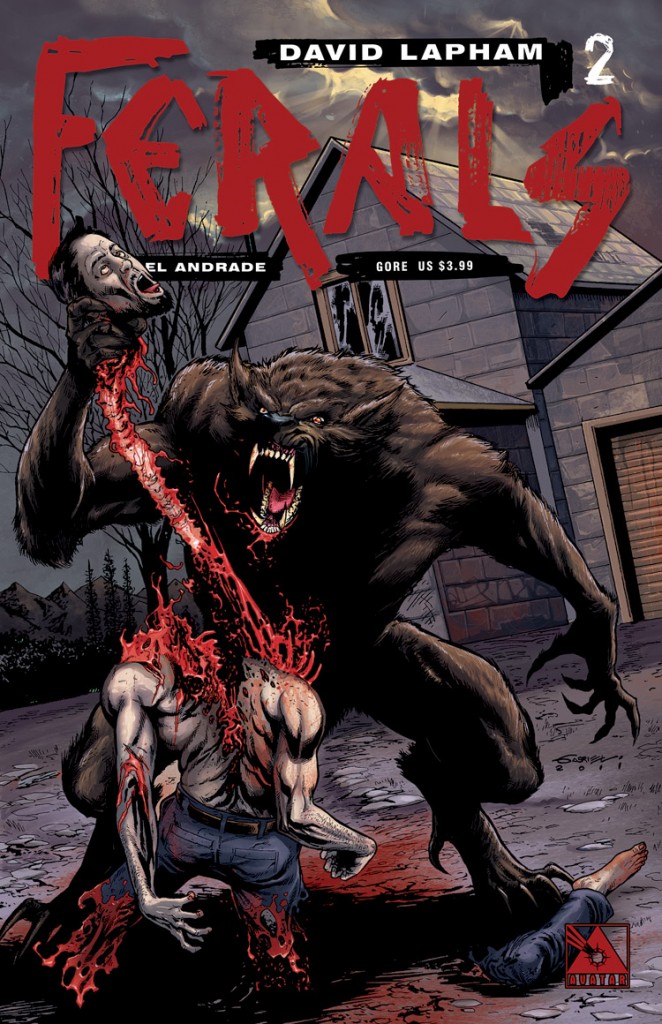 For folks curious about the new series, Lapham (best known for his work on Stray Bullets, Young Liars, and Crossed: Psychopath) also had this to add: "If you were longing for an HBO series about werewolves, forget that and buy FERALS. It?s everything that TV show would be if it existed ? which it doesn?t ? and more, because we have no rules. This is a solid series full of true horror and violence, and built on strong characters that has no limits in terms of where we take it. No limits. Plus Gabriel Andrade?s art, besides beautiful, is immersive. This guy was built for an ongoing and this series will suck you in." Strong words from a beloved creator! Please, tell us you're sold.
We are offering several different cover editions for issue #2, including the following:
FERALS #2 ? Regular Cover
$3.99 Retail, Cover by Gabriel Andrade
Diamond Item Code: DEC110871
FERALS #2 ? Gore Cover
$3.99 Retail, Cover by Gabriel Andrade
Diamond Item Code: DEC110872
FERALS #2 ? Wraparound Cover
$3.99 Retail, Cover by Gabriel Andrade
Diamond Item Code: DEC110873