Prepare to leave your local comic shop today with a huge score of Avatar Press comics! This week's new comic releases include DICKS COLOR EDITION #2 by Garth Ennis and John McCrea, FERALS #3 by David Lapham and Gabriel Andrade, and STITCHED #3 by Garth Ennis and Mike Wolfer.
---
DICKS COLOR EDITION #2 by Garth Ennis & John McCrea
DICKS COLOR EDITION #2
Retail: $3.99, Covers by John McCrea
Diamond Item Code: JAN120889 (Regular), JAN120890 (Offensive)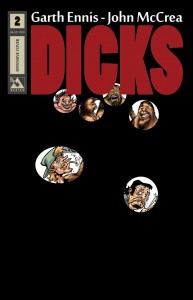 You will not believe what Garth Ennis and John McCrea have in store for you with their second, wild issue of the newly-colored, totally re-mastered DICKS series!? Behold the outrageous antics as Ivor gets another visitation from the angry ghost? of his dear, departed Uncle Shuggie, Dougie discovers a terrible truth about his foul-mouthed infant son, a shadowy sniper tries his best to assassinate the pair of would-be investigators, and our boys from Belfast come into a box full of bouncing powder (that's cocaine, folks)! Plus, our illustrious hosts Ennis and McCrea present a lost tale of young Dougie and Ivor, as they were just wee, obscene lads dodging the bully named Big Billy on the playground!? It's an origin story with the same attitude, the same violent behavior, the same level of glorious, crude humor… only shorter characters!
.
---
FERALS #3 by David Lapham & Gabriel Andrade

FERALS #3
Retail: $3.99, Covers by Gabriel Andrade
Diamond Item Code: JAN120896 (Regular), JAN120897 (Gore), JAN120898 (Wraparound)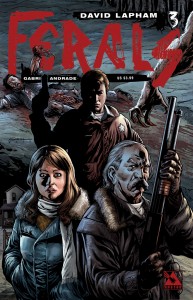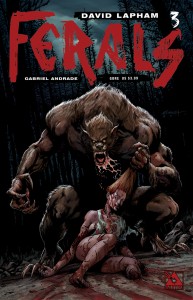 David Lapham continues his vicious re-defining of the werewolf genre!? As the existence of the Ferals is slowly uncovered, Officer Dale Chesnutt discovers that evisceration and disembowelment has become the new status quo in his quiet town of Cypress… and finding a way to keep the internal organs inside his chest is turning out to be a lot harder than he thought!? Lapham and Andrade have developed an incredible survival horror series that brings the reader to a new place full of blood and gore.? Available with a by series artist Gabriel Andrade.
---
STITCHED #3 by Garth Ennis & Mike Wolfer
STITCHED #3
Retail: $3.99, Covers by Mike Wolfer
Diamond Item Code: DEC110864 (Regular), DEC110865 (Gore), DEC110866 (Wraparound)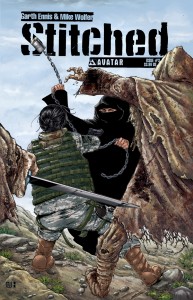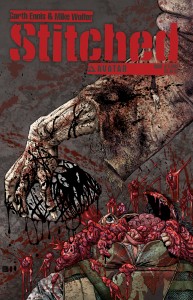 The crew of a downed American Blackhawk and the SAS team who they were charged with extracting begin their long walk through enemy territory. But no soldiers have ever faced adversaries quite like the ones who wait in the Afghanistan desert, twisted remnants of tortured human corpses reanimated by black magic and intent of murdering every living thing within their grasp. As the mystery of the Stitched deepens and their attacks come more unexpectedly, a few tantalizing clues to their creation begin to unfold, but it?s a truth that?s almost too unbearable to believe.
---