Three big Avatar issues are in comic shops this Wednesday 7/31 – Don't miss them!
Absolution: Rubicon #2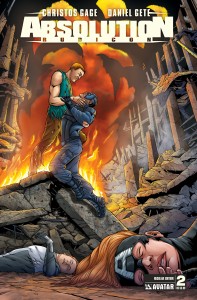 PRODUCT DESCRIPTION: ?The Polymath is murdering everyone in his path and laying waste to the city.? John Dusk is determined to take him down again, but how can you stop a madman that is immune to every form of violence he?s faced in the past?? Heroes fall, legends die, and innocents are buried beneath the tides of violence.? The body count continues to build as CHRISTOS GAGE returns to his violent crime filled and adrenaline fueled world.? Available with Regular, Wraparound, Final Justice and Electric Blue Retailer Incentive covers by series artist Daniel Gete and a special Happy Kitty Premium cover by Michael Dipascale that is limited to just 750 copies.
Caligula: Heart of Rome #6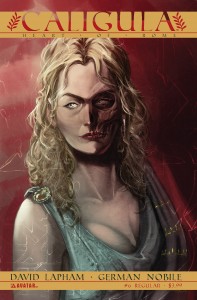 PRODUCT DESCRIPTION:?? DAVID LAPHAM?s Caligula: Heart of Rome screams to an unbelievably violent and bloody conclusion!? The final battle lines are drawn and the foul spirits plaguing Rome are terrorizing the masses. Laurentius finally confronts the demon Caligula in the body of the gladiator in an attempt to free his wife?s soul from the beast.? And Felix must face the foul creature beneath the streets of Rome to atone for his sins?but the temptation of Caligula is powerful. The demonic forces of Rome fight for control of the bloody remains of the city and no one is safe.? Available with Regular, Wraparound, or Gore covers by German Noble, and a special Imperial Retailer Incentive
Uber #4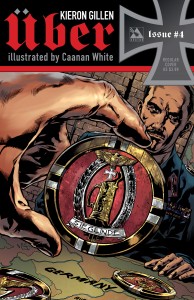 PRODUCT DESCRIPTION:? KIERON GILLEN?s Uber unleashes the Nazi super soldiers into a defenseless Paris, determined to show the Allies in the West how vulnerable they truly are.? The race for Allied Uber soldiers is at a breakneck pace, but Churchill?s HMH troops are not yet in the same class as Hitler?s heavyweight Battleships.? With no choice left to them, the earliest Allied super soldiers must rise to the occasion and face an enemy with greater power and experience than they have ever seen.?? Available with Regular or Wraparound cover by Caanan White, Propaganda Poster cover by Michael Dipascale, and a special Blitzkrieg Incentive cover by Caanan White