New in comic shops this week from Avatar Press:
Absolution: Rubicon #4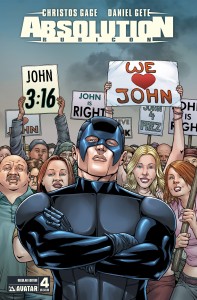 PRODUCT DESCRIPTION: ?The final showdown with The Polymath here and no one is safe from his murderous rampage.? CHRISTOS GAGE?s world of Absolution takes no prisoners as super powered cop turned vigilante, John Dusk, must find a way to stop the unstoppable juggernaut.? The Polymath has seemingly evolved beyond death?he is invulnerable to all known weapons and is hell bent on making Dusk his next victim.????? Available with Regular, Wraparound, and Electric Blue Retailer Incentive covers by series artist Daniel Gete, a Final Justice cover by Michael Dipascale, and a special Happy Kitty Premium cover by Gete that is limited to just 750 copies.
Crossed: Badlands #37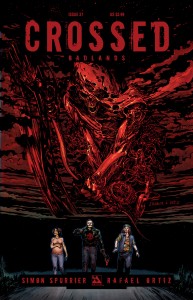 PRODUCT DESCRIPTION:? NEW STORY ARC!? Fan favorite Crossed writer, SIMON SPURRIER, delivers another fantastic character drama to the Crossed universe with ?American Quitters.?? What do a hardcore biker and a hippie have in common?? In the bleak landscape of the Crossed they have become traveling buddies giving us the strangest bloody violent road trip ever.? Errol and Frank are the odd couple of the apocalypse and they have only one goal on this crazy road trip?to kill as many Crossed as they can before they die.? Available with a Regular, Torture, Wraparound, and special Red Crossed Incentive covers by Rafael Ortiz.
God is Dead #2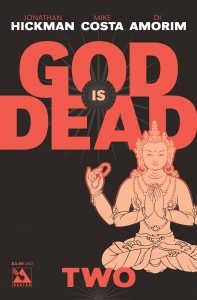 PRODUCT DESCRIPTION:? JONATHAN HICKMAN brings the wrath of the gods to comics with his new series, God is Dead!? Modern man turns all his technology and destruction to bear against the deities of old.? But what good are guns, tanks, and even nuclear missiles against the power of the divine?? In their hubris, humans have ruled for too long.? Now the gods of legend rule and to disobey them is death.? But something is brewing just below the surface of the newly returned powers?? A war of the gods themselves! ?Available with a Regular cover by Jonathan Hickman, End of Days cover and a premium Iconic card stock cover that is limited to just 5000 copies by Jacen Burrows, and a Pantheon Order Incentive cover by series artist Di Amorim.
Night of the Living Dead: Aftermath #11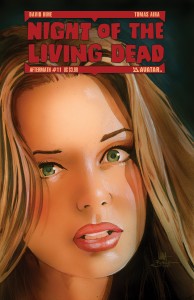 PRODUCT DESCRIPTION:?? Horror writer DAVID HINE brings the original zombie phenomena to new terror wrought heights in Night of the Living Dead: Aftermath!? The Las Vegas survivors thought they were saved, delivered unto a military compound where the human race could fight back against the rising tide of undead.? But inside the concrete walls a more heinous evil lives and breathes under the auspice of ?research.?? How can you survive a dead world when the living are just as much a threat as the virus ridden zombies?? If you want more undead horror in your zombie comics, pick up Night of the Living Dead: Aftermath and let the chomping begin!? Available with Regular cover painted by Matt Busch, Gore & Wraparound cover by German Erramousepe, and Terror Retailer Incentive cover also by Busch
Uber #6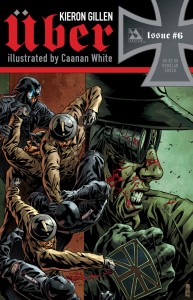 PRODUCT DESCRIPTION:? The second arc of Uber launches this issue as KIERON GILLEN opens a new chapter in this year?s most talked about series.? The first blow in the battle between English and German Ubers has been wrought and neither nation walks away whole.? The war rages on in the Pacific Theatre as Japanese Kamikaze pilots attempt to drive the US forces out while delivering devastating losses to the enemy naval fleet.? But the tides of war change as the Japanese deploy their own enhanced soldiers!? ?Picking up directly after the events in Uber Vol 1, this second chapter is the perfect jump on point for new readers to experience the horrors of Uber war.? Available with Regular or Wraparound cover by Caanan White, Propaganda Poster cover by Michael Dipascale, and a special Blitzkrieg Incentive cover by Caanan White.