New in comic shops this week from Avatar Press:
Bleeding Cool Magazine #6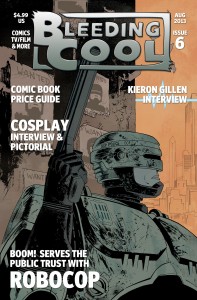 PRODUCT DESCRIPTION:? Bleeding Cool Magazine talks to some of the most recognizable COSPLAYERS in the field with a revealing interview and exclusive costume pictorial!? RICH JOHNSTON delivers a "what if" alternate reality for the comics industry.? BRENDON CONNELY takes us behind the scenes of the fall features with exclusive photos and scoops on Hollywood?s biggest events. ?Kieron Gillen is featured in a huge interview covering his career and a special look at his next projects, including a gallery from Ryan Kelly! ?Turn your COLLECTION into CASH with a special look at the hidden gems that are instant gold on eBay.? Get in the know with Bleeding Cool Magazine ? your source for industry rumor and exclusive behind the scenes interviews and images on this fall?s biggest events.? Delivering over 100 pages per issue on a bi-monthly release schedule, each issue is full of articles that are NOT AVAILABLE ON THE WEB like Johnston's Life in the Gutters, Hot Books Price Guide, and Turning Comics to Cash columns!
Crossed: Badlands #36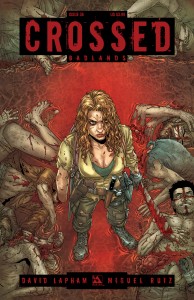 PRODUCT DESCRIPTION: ?Amanda has survived the psychopath Harold Lorre, multiple crossed tribes, and the slaughter of countless friends, but the evangelical Crossed may finally seal her fate.? DAVID LAPHAM brings Amanda?s tale to a startling conclusion that will leave fans stunned and scarred.? Available with a Regular cover by Jacen Burrows, Wraparound cover by Gabriel Andrade, Torture cover by Matt Martin, and a special Red Crossed Incentive also by Burrows.
Stitched #16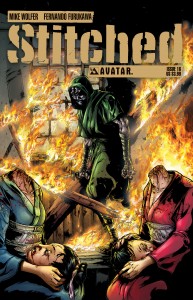 PRODUCT DESCRIPTION:? Tokyo entrepreneur Kenji Nakamura?s revenge upon the yakuza clan begins with the supernatural assassins known as ?the Stitched!?? These creatures cannot be stopped by either physical force or modern weapons, but as Nakamura?s plan to secure another recruit for his growing Stitched army proceeds, an even more horrifying entity manifests itself in his very home! ?Available with a Regular, Wraparound, Gore, and special Slashed Incentive cover by series artist Fernando Furukawa.