Avatar celebrates Halloween with two frightening new comics in comic shops on Wednesday 10/30:
Crossed: Badlands #40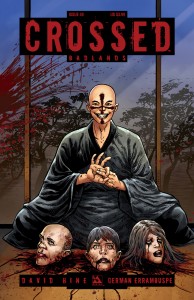 PRODUCT DESCRIPTION: ?Horror master DAVID HINE returns to Crossed: Badlands to tell a story set on day one of the outbreak – in Japan!? Three college students abroad in Japan are visiting a sacred temple for very different reasons.? But they soon find that on C-Day, enlightenment only comes in the form of homicidal misery from the fast spreading disease.? And an introverted female manga artist discovers that the nightmares she draws on paper are nothing compared to the vile misery of the Crossed.? There is no hope.? There is no help.? There is only the Crossed.? Available with a Regular, Torture, Wraparound, and special Red Crossed Incentive covers by Erramouspe.
Ferals #17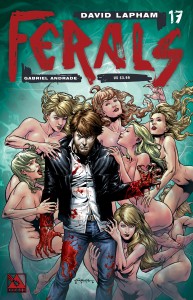 PRODUCT DESCRIPTION: DAVID LAPHAM unleashes the full threat of the Ferals in this unbelievable issue.? The wicked Dr. Cherry thought he was in control of everything.? But no man can control a she-wolf, and now eight hundred soldiers have been infected with the blood virus.? The war of the Ferals is coming and no one can stop it.? But thrust into the center of the conflict, Dale Chesnutt turns the very Feral bloodline against the Fathers and desperately tries to halt the inevitable conflict.? Don?t miss out on the violent drama unfolding in the pages of Ferals! ?Available with a Regular, Wraparound, Gore, and special Slashed Incentive cover by series artist Gabriel Andrade.