These comics are new to comiXology on Wednesday 10/16/13:
Crossed Family Values #1-7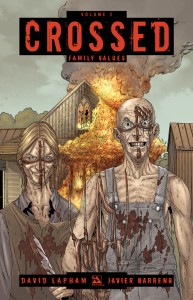 In one terrifying moment, civilization crumbled.? An outbreak of insanity swept across the planet, turning millions of people into the homicidal maniacs known as ?the Crossed.?? But from their isolated horse ranch, the Pratt family of North Carolina remain uninfected and defiant.? Bonded together as generations of working, living, and learning together, they rely on Joe, the family patriarch, to see them through the apocalypse.? But the Pratt family has a deep, dark secret ? one that threatens to tear them apart, even under the constant threat of the murderous hordes.? See, some men are turned to Crossed, but others? others are just born evil.? Eighteen year-old daughter Adaline will soon discover which breed is worse.? David Lapham, the critically acclaimed creator of the gritty STRAY BULLETS series, delivers a tale so twisted, so shocking, it more than earns its place next to the original runaway bestseller, by superstar writer Garth Ennis!Crossed: Badlands #10 – 17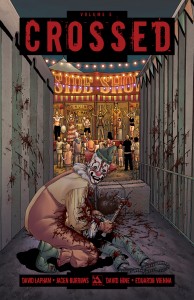 Journey back to the earliest days of the Crossed outbreak, when an outbreak of viral insanity first plunged an unsuspecting world into darkness, in two tales scribed by the masters of modern horror, David Lapham and David Hine! In high school, Edmund earned his nickname ?Yellow Belly? by running away and hiding whenever confronted by conflicts or fears. But when the Crossed infection ignites at a local circus, when a world of color and delight turns to anguish and misery, perhaps it?s that very same cowardice that will save him in the end! Meanwhile, a group of self-centered and hedonistic college kids head to a writer's retreat to explore their inner selves… but end up surrounded by berserk killers. What depths will they sink to in order to survive the grinning, gruesome hordes hunting them through the wilderness?
Ignition City #1-5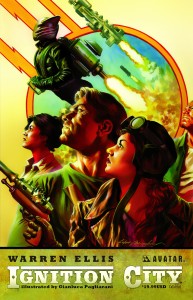 Whatever happened to the space heroes? Mary Raven investigates the murder of her father at Ignition City, Earth's last spaceport… a place where rockets belch smoke and arguments are still settled with ray guns!
Grounded space pilot Mary Raven has come to the interzone settlement in the middle of Ignition City, Earth's largest spaceport, to recoved the effects of her dead father… or so people think. Mary really wants to know how he died, and who was responsible. But today might be her last day on Earth, trapped on the last spaceport where no one cares about murder, and the only real currency is fear. She has her dead father's ray gun, and that's enough for space hero-turned-arms dealer Lightning Bowman to want her dead. But when she finds her father's lost diary she discovers something nobody else in Ignition City knows… and they'll want her dead for that, too. From Warren Ellis, the writer who reinvented science fiction in comics, comes IGNITION CITY, a retropunk "future of the past" where spaceships belch smoke and arguments are settled with blaster pistols.