New Avatar Press books in comic shops this week on Wednesday 11/27/13:
Bleeding Cool Magazine #7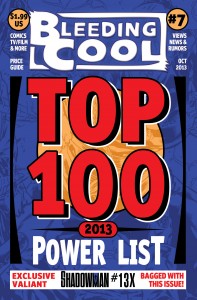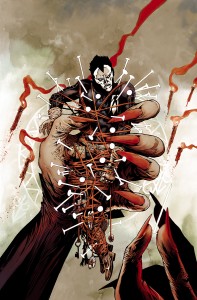 PRODUCT DESCRIPTION: ?The greatest issue yet is only $1.99 cover price.??Bleeding Cool Magazine returns for its yearly, and most controversial feature ? the Top 100 Power Rankings for the comic industry!? All-new for 2013, find out who the movers and shakers are and who gets the diss by falling off the list!? No one is safe when industry rabble-rouser RICH JOHNSTON is making the calls.? Also, the only way to get the original Valiant special edition comic?Shadowman #13X?is to get it free with BCM! ?Delivering over 100 pages per issue on a bi-monthly release schedule, each issue is full of articles that are NOT AVAILABLE ON THE WEB!? Over a million monthly bleedingcool.com visitors can?t be wrong!
Crossed: Badlands #42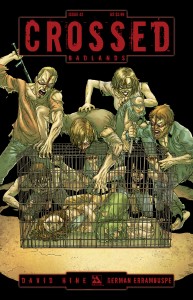 PRODUCT DESCRIPTION: ?Emiko is a broken girl.? Her art expresses the horror and violence she holds close to her with gore filled imagery of sexual revenge.? Men who take innocence face the slashing and bloody vengeance they deserve in the pages of ?Gore Angels.?? But when the Crossed begin to spread, the world itself is transformed into a mockery of her art.? And among the gleeful monsters, there are precious few places to hide from the misery of the Crossed.? Available with a Regular cover by Jacen Burrows, Torture cover by Matt Martin, Wraparound cover by Rafael Ortiz, and special Red Crossed Incentive cover by Burrows.
Ferals #18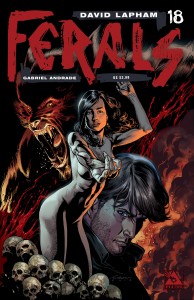 PRODUCT DESCRIPTION: The final issue of the first Ferals series will leave you speechless!? ??It Begins? is the title of this issue and that is an indicator of the bloody consequences of the military invasion of the Feral town.? Now, Dale Chesnutt must face an entire facility of newly turned Ferals if he wants to have any hope of stopping the escalation of violence.? The stakes could not be higher and drastic measures have to be taken!? Watch for the next Ferals series in Summer 2014!? ?Available with a Regular, Wraparound, Gore, and special Slashed Incentive cover by series artist Gabriel Andrade.
Visit the Comic Shop Locator Service to find a local comic book store near you -?http://www.comicshoplocator.com/Home/1/1/57/575