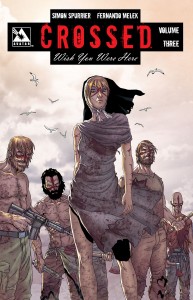 Simon Spurrier has created a different kind of Crossed story, one that delivers a long-form nightmare for a group of survivors isolated on an island. ?In addition to the manipulation, deceit, and petty politics of their haven comes the real palpable horror of the Crossed and a psychological misery that perfectly mirrors the physical stress of the post apocalyptic world Garth Ennis created.
With free weekly installments of Crossed: Wish You Were Here available to readers at www.crossedcomic.com, fans have been enjoying this unique story from the safety of their homes. ?And what started out as a character study on a young survivor who used to be a writer before the world went crazy has developed into the most powerful horror drama being published. ?Simon Spurrier has a unique ability to create multi-dimensional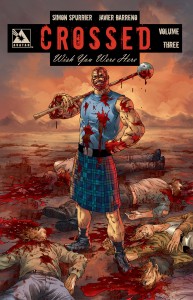 characters with stark originality and devastatingly human flaws. ?As with the previous volumes, the latest story line is being collected into a trade paperback and comic book store exclusive hardcover for January 2014. ?Retailers are placing orders for Crossed: Wish You Were Here Vol 3 over the next two weeks. ?Be sure to ask your local shop to reserve a copy of this terrifying tale for you and check out the other volumes for this horrifying look into the world of the Crossed.